He is 29 years old and started paragliding approximately 6 years ago, in 2018. When you see him flying, it´s common for other pilots to be surprised when they confirm that Arnold isn´t already flying a more competitive wing, that he continues choosing his EN B –Advance Iota 2-. In particular, when you know the multiple podiums he´s already achieved with it in 2019:
-1st Place in the Peruvian Championship 2019 Promotional Category and 2nd in Sport.
––2nd Place Argentinian Championship 2019. Promotional Category.
–2nd Place Open Funny Tucumán, Argentina 2019.
La Rioja Regional of Argentina, 2019:
1st Place Promotional Category
1st Place Sport Category
3rd Place Serial Category
Arnold was also the pilot who scored more points for his club –the ACAP, of the Cordoba province, Argentina- for whom he conquered the National Cup by Clubs 2019.
Your first competition?
A RAC (Friends of Córdoba Regional) in Cuchi-Corral. Later I had to get a license to be allowed to register in the CAP (Paragliding Championship of Argentina), in 2018. And in 2019, I registered in all the competitions in Argentina and also travelled to the Peruvian Championship and to some circuits of the Brazilian Championship.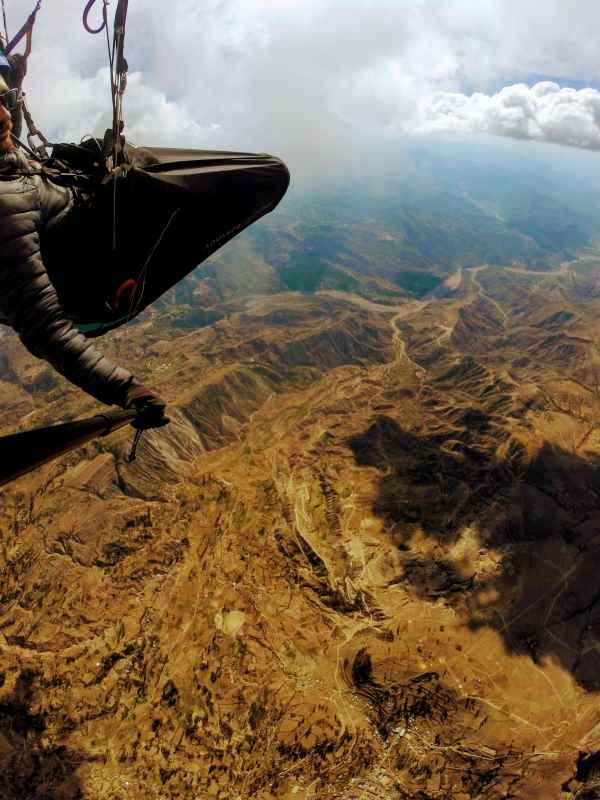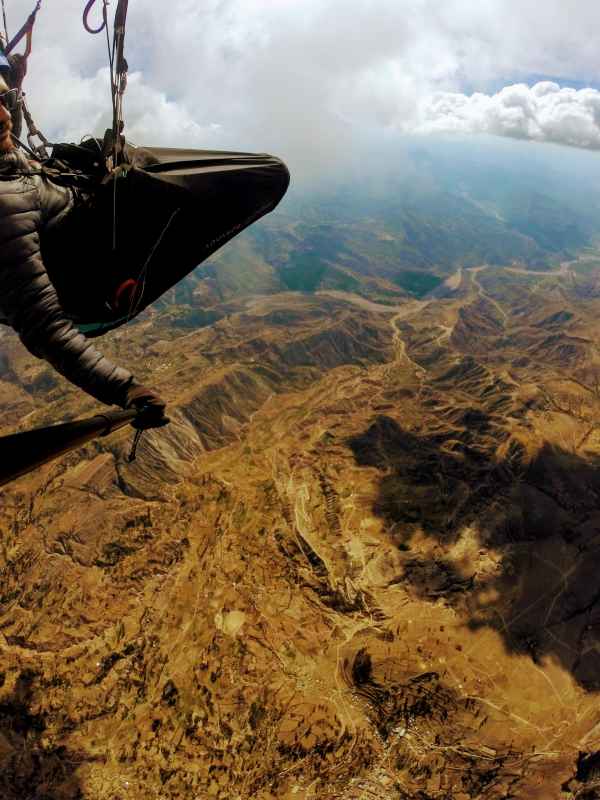 Why did you start competing?
I´m very competitive by nature and other pilots said that competition provides the best learning environment, because you are at a par with experienced pilots who shoot your level up. And so it was.
What has competition given you so far?
Everything about competition is nutritional for the pilot, both in the air and on the ground. You relate, make friends and all of it contributes to your progress. Personally, I´ve improved a lot.
IT IS GOOD TO KEEP RECORD OF OUR OWN FLIGHTS, COMPARE OURSELVES WITH OUR OWN MARKS… AND GRADUALLY OVERCOME THOSE MARKS.
What are the advantages of competing with an EN B?
What´s good about EN B wings is that now a days, you can make any flight you plan with them. Thanks to the performance achieved by the entire category, you can reach goals with great passive safety. I´m on the path of a progressive evolution.
The disadvantages?
The obvious one is with headwind when you see more performing wings pass you like nothing. But finally, what matters is knowing how to gain as much altitude as possible, choosing the best line to make the transition and glide. Everything has to be evaluated, the topography below you and you definitely have to sharpen up at all levels to achieve the marked flight, since you count with no advantages. It´s all very nutritional.
Any useful tip?
It´s good to keep record of our own flights and compare ourselves with our own marks. For example: longest distance, highest altitude, longest flight and progressively overcome little by little those personal marks.
What are your goals and what are you doing to achieve them?
My long term goal is to classify to a World Cup and compete a full PWC (Paragliding World Championship) circuit. So every time I take off, I fly with a pre-set goal, which can either be a specific XC flight or simply improving in terms of pilot performance. I plan long distance flights with colleagues who fly more performing wings than mine and have greater experience. This year, I´ve fixed for myself a full calendar of competitions in my category.
I want my progression to be slow. I´m going to use my Iota 2 until the end of it and I´m also focusing in improving my pilot skills, because I feel that I´ve improved a lot in XC already so I bought an acro harness to also improve the maneuvers. I made a SIV (simulation of incidents in flight) with Pablo Lopez but I still want to improve in that aspect before changing to a higher category.