In 2002 Ojovolador was born as a website dedicated to Paragliding, in which we (its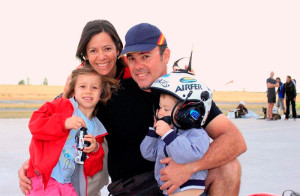 founders) could combine our professional skills in communication and design, our interest in new technologies and the sport we like the most – and share that with other pilots in order to contribute to the enjoyment and safety of paragliding around the world. That's how our Flying Eye blinked for the first time.
Today (May, 2016), Ojovolador is one of the most visited websites about paragliding in the World Wide Web, with an average of about 4000 visits a day, nearly 14,000 followers on our Facebook page, and +4000 subscribers on our Youtube channel.
What makes our site unique is the experience and knowledge behind our vast collection of specialized articles: we have degrees in journalism, communication and graphic design and many years of work in these fields related to paragliding; more than 20 years of experience as pilots; experience as collaborators for paragliding magazines; and good results in paragliding and paramotor international competitions. This background allows us to offer reliable information treated professionally.
In these years, Ojovolador has become a true independent online magazine offering updated information, fresh news and live reports about the most interesting successes of the
international paragliding community; all this available in Spanish and English. We are proud to see that we have built a media capable of connecting people that are so different and from such distant places as Argentina or Iran, but who have something very special in common, which is the passion for flying.
Our Team: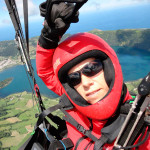 Claudia Riquelme. Chilean professional journalist, her desire for knowing new places and experiences has led her to travel thousands of world km., through 4 continents, dragging behind her paraglider or just a small backpack. Claudia started flying in 1995; five years later she moved to Spain to develop post-degree studies in Literature but soon got involved in journalistic work for PG specialized media, which allowed her to combine her profession with her favorite sport, paragliding. Now she parts her time between the editorial work for Ojovolador.com and family life in the Gredos mountains, a great spot for paragliding.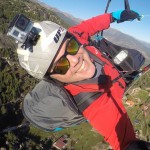 Daniel Crespo. Born in Venezuela and living in Spain since 1994, Daniel studied Graphic Design with specialization in Design for Television. But soon he discovered paragliding (1993) and decided to dedicate his time and effort to high level competition flying. He was ranked among the world's Top pilots in the late 90s, and in 1998 he founded the Safety ACRO Team with other PG pilots interested in aerobatics. With the SAT Team, Daniel directed three successful Acro videos: "The Maneuver", "The New Era Voyage" and "SAT Republic". From his passion for free-flight, Daniel has directed his artistic skills to the flying world, designing posters, T-shirts and logos for various championships, events and companies related to this sport. Now, he is full time test pilot and writer for Ojovolador.com, and flies every time he has the chance.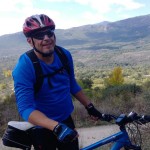 Miguel Krause. Former paraglider pilot, musician, professional photographer, webmaster and artist, Miguel helps us keep the site running smoothly and is one of the fathers of Ojovolador version 3.0
Collaborators: We also get contributions from important members of the paragliding and paramotor community to our blogs section "Vulturine".