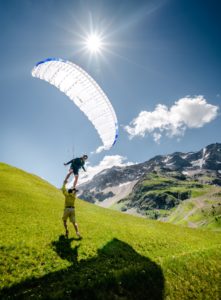 The Run&Fly is the result of a hard development work carried out by test pilot JB Chandelier, team Dudek and the sailcloth manufacturer Porcher Sport, aiming at a wing with a total weight below 1 kg that offered speed and flare comparable to standard wings, and at an affordable price.
At Dudek are quite happy with the result and they remark that the Run&Fly has good speed, nice landing, and offers a lot of fun.
"Besides reaching our goals we also achieved a good glide ratio – around 7", they say.
According to the manufacturer, the Run&Fly offers such easy inflation that there is no need to use A risers or brakes, the wing inflates and stays over the head without pilot inputs, just a bit of walking into the wind. It is an easy to control wing once inflated, "reactive and much more forgiving than usual". In the air, the Run&Fly is described as "super reactive and intuitive", with direct control, and very stable in pitch. The design of the glider incorporates reflex elements that make it safe and solid in the air, according to Dudek. The Run&Fly needs speed for a good flare and smooth landing.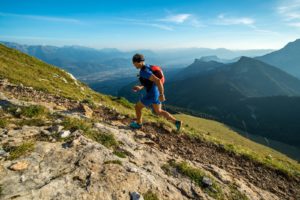 Due to its exceptionally light weight, Dudek recommend the Run&Fly to pilots willing to take it on their backs during trail running or climbing sessions, "or just as a second wing you will always have with you (you can easily place it in your hand luggage while travelling by plane)".  The glider fits in a 4-litre bag.
The Run&Fly sail is made with a combination of Porcher Universal 38 g/m2 and Everlast 42 g/m2, Dominico tex 41 g/m2, Porcher Hard 40 g/m2, SR Scrim, and SR Laminate 180 g/m2.
Available in 4 sizes (14, 16, 18 and 20m2) for pilots from 45 to 108 kg of weight, the choice of size should be based also on the experience and skills of the pilot and the speed he/she wants to reach. The glider has an aspect ratio of 4,8 (3,6 projected) and 41 cells. The sale price is 1999 euros.
+Info: www.dudek.eu