The Bantam is Nova's fast new double skin mini wing, developed specifically for para-mountaneering pilots of all kinds. It offers a lot of speed and glide with an enhanced geometry for safer landings and take-offs than single skin alternatives, according to Nova, along with the lightest weight to date, only 1.65 kg (size 12).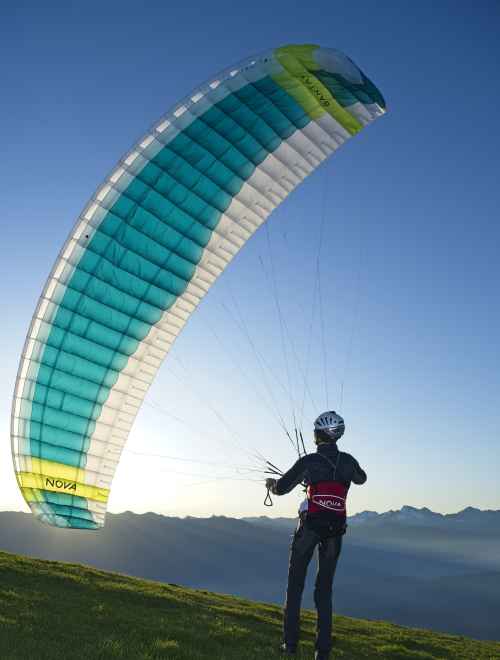 Certified EN D and available to the public as of December 2019, the Bantam has already won the Dolomitenmann 2019 by Chrigel Maurer and his team. It folds to a package of only 7 liters (size 12) and once at take-off, it offers different features for those who prefer flying down instead of going on foot. The new miniwing requires very little space and was built to take off with very little speed as well, announces the brand, thanks to its profile and geometry that generates a lot of lift. The Bantam's 33 cells, 4.4 flat aspect ratio and 3.95 meter sheathed lines (size 12) guarantees a fast descent with a great performance at trim speed and is even faster accelerated, say at Nova.
The mini wing also comes with safety pins, included in the deal, to hold the upper surface of the profile with loops onto icy or grassy steep slopes, so common when in Hike&Fly and Vol Biv expeditions, along with a compression bag of 32 grams, also the lightest to date.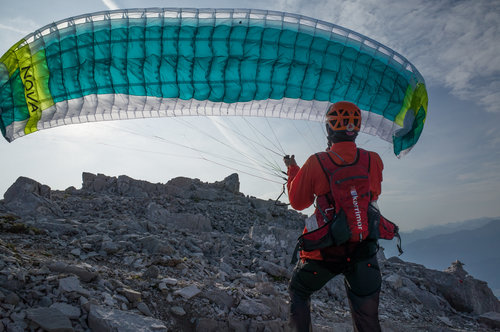 Small, compact, light and dynamic, with the Bantam it is possible to fly barrel rolls. Due to the high wing load of miniwings in general, and as Nova makes clear at their website, "… the BANTAM only belongs in the hands of experienced and skilled pilots! Also, in extreme situations, the BANTAM requires precise control inputs and active intervention by the pilot".
Bantam's designer, Philip Medicus, achieved "high top-speed and good glide performance as the essential safety criteria for climb & fly wings". So he developed a classic double skin 3-riser with two A-risers on each side and soft links.
The Bantam comes in three sizes, 10, 12 and 14. Sizes 12 and 14 are certified as EN/LTF D.
Here's a video of the Bantam in action:
+Info: www.nova.eu/bantam