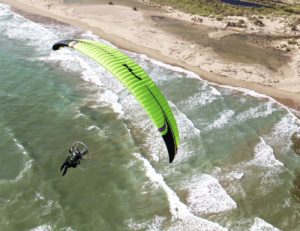 The second Dobermann is mainly aimed at paramotor pilots experienced in racing and slalom comp "also committed to safety and comfort", according to the manufacturer. The Dobermann 2 profile has been optimized to offer wider speed range and higher glide and stability, as well as better turns. It is a competition, slalom and freestyle wing.
According to Niviuk, the Dobermann 2 reaches maximum speeds of up to 81 km/h, according to test flights conducted by Ramon Morillas with size 15. The glider is equipped with the Double Effect System (DES), which keeps the trimmers closed (low speed setting) and automatically opens them when the pilot pushes the speedbar during the flight. Then, when the speed bar is released, the DES returns the profile to the neutral (default) position.
The Dobermann 2 has a more arched canopy that allows a better turning efficiency for improved roll, according to the manufacturer. The double control system also contributes to this, with a main brake and the aerodynamic tip line to turn when the reflex is open without affecting the stability of the profile. This way, "the tip permits a turning speed up to 60 km/h when rounding a pylon", say at Niviuk.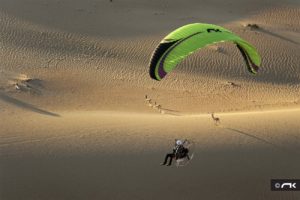 They claim that the glider has very good behavior at minimum speeds which allows the pilot "to control the takeoff and landing at ease".
The new Dobermann 2 has an aspect ratio of 5.9 and 60 cells. It is available in 6 sizes with EN 926-1 / DGAC approval, thus incorporating some larger sizes for freestyle or recreational flights. The glider has a weight of 4.8 kg for size 20, the largest one (85-145 kg total weight in flight).
+Info: http://niviuk.com/product.asp?i=eng&id=&prod=JNMQPQF0&news=