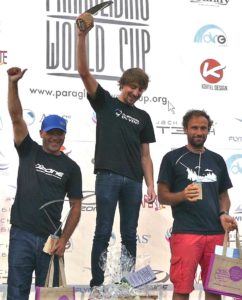 The 4th leg of the Paragliding World Cup tour 2016 was held on September 3-10 in the south Alps, and ended after 3 valid tasks with the victory for French pilot Maxime Pinot, followed by Spanish acro world champion Felix Rodriguez -both flying Ozone Enzo 2 wings. Ozone's designer Luc Armant was 3rd on a Zeno, the new 2-lines EN D paraglider released by the house.
The competition started on Tuesday 6 of September, after two days of bad weather, a 79.4km race to goal that was won by South Africa's Andre Rainsford (Gin Boomerang 10), with Argentina's Michel Guillemot 2nd and Ulrich Prinz (DEU) 3rd -both on Enzo 2s.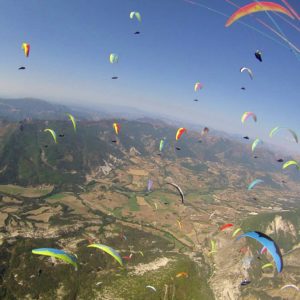 On Wednesday, a 115.2km task was set and Yassen Savov (BGR, Enzo2) completed it 5 minutes ahead of the next pilot in goal, Luc Armant, with Pinot coming in 3rd.
On Thursday a 72.25 km task was set but it had to be stopped due to dangerous conditions on take-off. On Friday the conditions allowed for a 102.37 km race to goal, which was led by a group of 7 pilots who finished within 48 seconds of each other. Slovenia's Tilen Ceglar was first with France's Maxime Pinot and Honorin Hamard sharing the second place, and Felix in 4th. This would be the last competition task of the event; on Saturday a 60 km task was set but overdevelopment on the course forced to stop it before the lead gaggle had taken the 3rd waypoint.
"I was flying confident in my decisions concerning the conditions, just using the group sometimes. On the first and last task I was flying most of the time alone", said Pinot about his victory.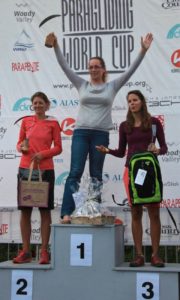 In women, the winner was Kirsty Cameron (GBR, Ozone EnZo 2), with Laurie Genovese (FRA, Ozone EnZo 2) second and Yael Margelisch (CHE, Gin Boomerang 10) third.
The winner team was Ozone, and the first Nation was France.
+Info: http://pwca.org/ & full results: http://pwca.org/results/results/