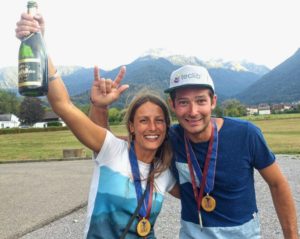 The second Acro Paragliding World Championship celebrated between August 26 and September 4 of 2016, saw 34 of the best acrobatic pilots from 16 countries deploy their skills and creativity above the waters of the Lake of Annecy, in France, to get the FAI medals of the more radical discipline of our sport. France's François Ragolski (AirG Emilie Peace) took the gold in Solo after 7 valid tasks, beating team mate Tim Alongi (AirG Emilie Peace) 2nd and Spain's Horacio Llorens (Gradient Agility) 3rd.
Brothers Raul and Félix Rodriguez from Spain, considered the "fathers" of Acro, claimed the top of the Synchro podium again, ahead of a whole new generation of acrobats, a decade after getting it at the first Acro Worlds held in Switzerland. With 8 women competing there was also female podium, and Austria's Christina Kolb (AirG Emilie Peace) took the gold with Germany's Nicole Schmidt (Icarus Nikita 5) 2nd and Swiss pilot Lea Haensenberger (AirG Emilie Peace) 3rd. By nations, France was 1st, Spain 2nd and Switzerland 3rd.
The competition was fierce among the participants, who had to make good use of strategy to get the best possible score on each task -finally, seven for each modality, Solo and Synchro. The new Solo world champion said that it was a long competition with a lot of stress. "What made the difference was that I managed to put a lot of good maneuvers. I managed everything on the height. We start initially with options but we can cut or change the schedule at the last moment. I have almost always done what I had planned, but it's true that it is a "short in height" spot. This is not a sport of chance but preparation of runs and experience paid", concluded Ragolski.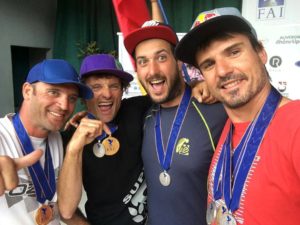 For the Spanish team it was a good competition where only the French were superior. This is what World Cup champ Horacio Llorens, who took two individual medals (bronze in Solo and silver in Synchro) and silver by countries, told us: "It was an incredible competition, with many tasks and strategy. As we cannot repeat maneuvers, it deducts points, we had to choose the best scored maneuvers with careful strategy in order not to reach the end of the competition without options. I go home with the highest scored task of the comp, my 5th task, and the feeling that I could have done more to reach gold or silver. But the competition is like this, sometimes things work out well and some others they don't. Anyway, I am very happy with my bronze. My applause for Raul and Felix that took gold in synchro, they are living legends!"
"On the 6th task, the team that was behind us hot on our heels (4th) pulled a badly made Infiniti; Tim [Alonghi] ends up almost falling in the glider, then they are out of synch and do nothing more… so for the last run they had gone down a lot of points. Felix and I were super relaxed, as we had nothing to lose! ", recalls Raul.
For the "Sat Brothers", Raul (AirG Emilie) and Felix (Ozone Trickster 2), the last race of the Acro Worlds was decisive since they were very close in points to the teams ahead and knew that they needed a good score. They chose maneuvers of high score, and marked a spectacular synchronized landing on the raft that gave them an advantage of a thousand points in the task.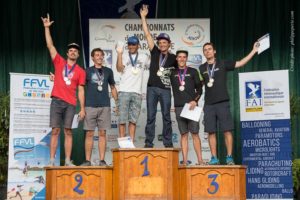 With this result they could step up to first place, 300 points ahead of the "Twisted Boys", Horacio Llorens and Theo de Blic (FRA, Gradient Agility), who took the silver. The "CAT Acro Team", formed by the Swiss David Geiser and Jeremy Peclard (both with Niviuk N-Gravity 4), took the bronze. "World champion in synchro with my dear brother Raul… again! I can't believe it", posted Felix along with the video of the last task (above).
After the Acro Worlds we talked with Raul Rodriguez about this victory and the competition in Annecy, and he told us that experience -they were the most veteran team, flying together most of their lives- and their training helped them in the synchronicity of the manoeuvres and in the good landings with turns and on the raft, but they also had a secret weapon that made a difference…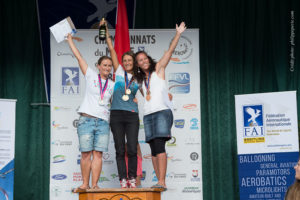 The first female world champion in this discipline, Christina Kolb, said that the best was sharing with so many other acro girls. "The mood between us was really good and we cheered for each other", she said at the end of the Championship. Raul also highlights the great level showed by the women competing: "They pulled all the maneuvers, without the twist but all of them, infinity, rythmic, anti-rythmic, mac twist to heli, connections like the cork that is a looping connected to a helicopter… amazing level of the girls!"
+Info & results: http://wpac-annecy-2016.com/