Yeti 5
Gin's latest hike-and-fly EN A paraglider, the Yeti 5 is lighter and more compact than ever, announces the brand. The all-new planform of Gin's renewed lightweight wing was conceived to provide a lower stall speed for easier take-offs and landings in tight, unexpected spots and more challenging overall conditions as well. "We worked on granting it a dampened behavior, a more solid feel, and a more forgiving nature altogether, so it wouldn't be for flight downs only. The lower minimum speed and relatively higher maximum speed achieved in the wing's performance provide a bit of extra penetration when needed", explains the designer.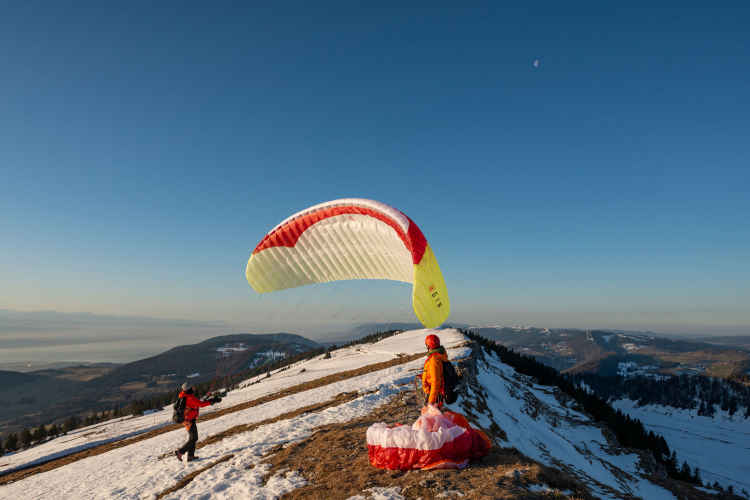 The EN-A certified Yeti 5 comes in four sizes -21, 23, 25 and 27- fitting weights of 75 to 120 kg. The paraglider has a final weight of 2.61 to 3.06 kg that can be reduced an extra 200 gr when opting for the Dyneema risers. Aimed at hike and fly aficionados, student pilots and mountain specialists, the Yeti 5 can be used in small thermals, thanks to its lower aspect ratio (4.55 points), its reduced number of cells (33) and its new, flatter 3D planform compared to the previous Yeti 4.
Some of the construction details of the new Yeti 5 are: Optimized airfoil with EPT profile. 3 risers / 3 lines spanwise. Thin, sheathed PPSL Dyneema lower and mid-lines with unsheathed upper lines. Mini-ribs on the trailing edge. Speed system with Harken pulleys. Gathering system on the trailing edge. Ultra-light fabric: 34g front top surface and 27g top surface rear and bottom surface.
Orange and lime are the two factory color options of the wing at Gin's website. X-lite rucksack, inner bag, compression strap, and repair kit are included.
+ info Yeti 5: https://www.gingliders.com/en/paragliders/yeti-5/
Genie Lite 3 new accessories
The Korean factory launched two new accessories for the Genie Lite 3 harness: A rescue deck and a footpad.  The Rescue deck enables you to fit a second front-mounted rescue to your Genie Lite 3 harness that can be deployed with either hand and makes the harness comply with competition regulations. The new footpad enables a 5cm adjustment to the length of the cocoon.
+ Genie Lite 3 info: https://www.gingliders.com/en/harnesses/genie-lite-3/
Yeti Tandem 3 size 37
Now in 2 sizes, the new 37 size of the Yeti Tandem 3 paraglider has a final weight of 4.8 kg and was specifically designed to provide ultra-lightweight leisure tandem mountain flights for heavy solo pilots or tandem pilots with lighter passengers like children. Though both sizes now available of the Yeti Tandem 3 share the same 5.35 points of aspect ratio, their certifications differ. The new size with a higher passive safety , 37 (90 to 190 kg) is EN A and the existing 41 (120 to 208 kg), made for professionals is EN B.
"…Size 37 is ideal for pilots who fly with their families, with a minimum total weight of 90kg even small children can be accommodated…Naturally, the smaller size will suit hike'n fly pilots too… size 41 is particularly suited for commercial pilots who wish to use a lightweight wing and for heavier pilots and passengers", explain at Gin.
+ Yeti Tandem 3: https://www.gingliders.com/en/paragliders/yeti-tandem-3/