They took their time but the latest EN D 2-liner of the Corean manufacturer seems to have been conceived to improve the overall figures of the ultra-competitive EN D category. Designed in a collaboration between Gin Seok Song and Torsten Siegel, the Leopard is presented as a wing that shares its DNA with the Explorer (EN B) and the Bonanza 2 (EN C), and the result of Gin's 8 year experience in the development of their 2-liner Boomerang series (competition).
This is a pretty impressive development when comparing the tech specs of the Leopard. On paper, the wing offers better overall numbers in terms of general performance.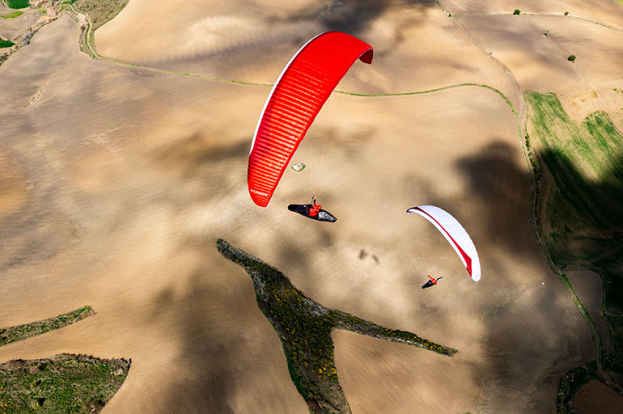 With a considerably longer flat aspect ratio than existing wings of same category -7.12 to 7.17 points for their 4 certified sizes (XS-S-M-L)-, the Leopard has more pitch and wing tip stability over the entire speed range with a good feedback through the B risers, and it is solid and cohesive yet not stiff, according to the manufacturer.
With more cells, 86, to prevent the ballooning effect, and mini ribs in the trailing edge, the Leopard offers a smooth eye catching profile that Gin expects will win the XC pilots who seek the very best the EN D category has to offer.
Gin made use of different technologies for their latest development as Torsten Siegel explains "The Leopard is the first production 2 liner with our 2nd generation Equalized Pressure Technology profile. More extensive Computational fluid dynamics analysis… The result is increased stability across the entire speed range… better performance, smoother, more responsive handling and a higher top speed. Besides the new profile, we dedicated a large part of our effort to carrying out research to find a new method to calculate the optimum sail tensioning at all parts…"
The Leopard comes in two colors: White and Red. Gin's hot latest glider was definitely designed to rock the EN D category.
+Info: www.gingliders.com