The new site www.paragliding.bstoked.net wants to become a meeting place for travelling paraglider pilots looking to experience flying with local experts around the globe and pilots willing to host them, "somewhere between Aribnb and TripAdvisor for sports experiences", say at bstoked. The platform has been online for two years, and is now gradually expanding from kitesurfing into paragliding supported by Portuguese paragliding champion Nuno Virgílio.
bstoked wants to "inspire and empower experienced or famous paragliders to share their knowledge and resources with visiting pilots". This will allow them to get more bookings for their businesses or to finance their way of life and spend more time in the air, according to the startup.
"Flying has always been my passion. Now a dream has come true: the whole world can get connected through a simple idea. It's now easy and fun to share the best place on Earth: the Sky!" says Nuno.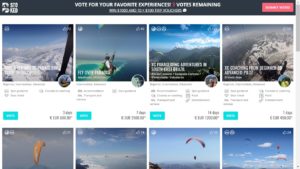 To launch the platform, bstoked started an open competition for the most unique paragliding experiences worldwide, gathering offers that range from hike & fly the Kilimanjaro in Tanzania (Africa), discover Caribbean XC in the Dominican Republic, or cross country in Australia, New Zealand or the famous Brazilian Northeast, to accommodation in the Himalayas or the Alps. They are now asking the paragliding community to vote on the best offers while getting the chance to win discount vouchers for the experiences offered. You can see them and vote on: https://paragliding.bstoked.net/vote2017
The platform is not only for professional guiding pilots or organizers of flying trips, it is also open for pilots who just love flying and know their local paragliding scene well (take-offs, thermals, or where to chill-out after a nice flight).
+Info: www.paragliding.bstoked.net