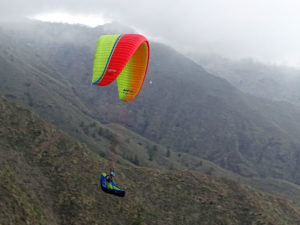 UP's new class B paraglider was born with a defined purpose. With advantages such as easy inflation and turn, fast flight with a good level of safety, together with its smooth flying style, nice handling and reduced weight, it is a perfect machine for mountain flights and hike&fly adventures.
UP offers this wing in three sizes covering a weight range from 65 to 115 kg. Approved EN B, the Kangri has 57 cells, and a real aspect ratio of 6.3, 4.8 projected. It is a glider with a high arch, which defines its particular turning behavior.
The use of lightweight Porcher Skytex © fabrics of 27 and 32 gr/m2 and an elaborate internal construction make possible its weight of 3.7 Kgs for the Small size, and 4.2 Kgs for size L, which was the one we tested.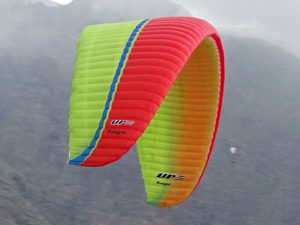 The Kangri features "normal" risers and parts; it looks and feels a sturdy paraglider. It has a balanced compromise of a light wing for the main use.
After several flights done with the Kangri -by some friends and myself – here are the things I can tell you.
Let us start from the beginning.
Take off wherever you want
When you get a hike&fly wing you will probably find yourself in places where you will need to take off from small sites, and in less than perfect conditions. That is why we put the Kangri to test on several adventure flights improvising takeoffs, some of them quite complicated.
It was interesting to notice the good-natured qualities of the Kangri to face that task; inflation is light, and the wing tends to climb easily and centered. It is a live glider, but it offers good control and it is not brusque. A slight gesture to the risers propels the rise of the canopy.
Sometimes the limited space for launching forced us to set the glider in a closed u-shape, but if you just expose it a little to the wind the Kangri would pre-inflate and start climbing.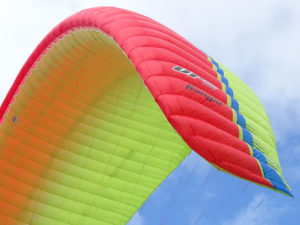 It can quickly reach the vertical, but it will not pull the pilot sharply. It shows a clear tendency to face the breeze.
The "cobra" inflation works well at the first try, and we found it to be a crucial technique to take off in some complicated sites.
In short, the Kangri has everything necessary to inflate in the most unexpected places, with the sole consideration of its unsheathed lines, a sacrifice for performance that requires a thorough preparation of the canopy and lines in areas with twigs and/or rocks.
Agile and solid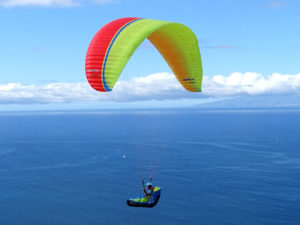 In the air, the glider feels strong and consistent. The Kangri is a block and transits the air drawing precise trajectories, without drifting or yawing. It is fast, but the great feeling of pressure on the wing and brakes makes you feel comfortable
Navigating and gliding
UP's 3-risers hybrid system allows you to handle this high EN B model much like a two-line paraglider. Thanks to this, when it comes time to go on a glide we simply position ourselves in the harness, step on the speed bar in the desired position and control the angle of attack by pulling the ergonomic handles of the C-riser. With this technique, you can fly really fast, more than what you would expect from a B paraglider, with solidity and a good glide ratio.
Amazing turn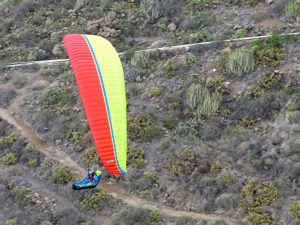 Its flight style is clearly oriented to maneuverability: the Kangri has a medium brake-travel, very direct and effective. You can feel the pressure in each hand to execute your turns with authority and confidence.
With the Kangri you will be able to center cores that seem impossible otherwise; in this area it is unbeatable. But its smooth and wide turn is also effective.
For all this, the natural habitat of the Kangri is the mountain: with this paraglider you can move with speed along ridges, defeating sink areas, and gliding from peak to peak until you find and take advantage of even the most rebellious bubbles of lift easily.
Precision landings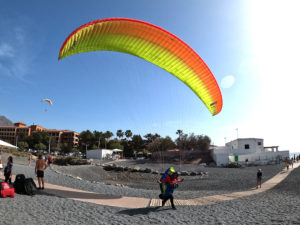 XC flights, and especially the Hike & Fly mode, requires you to be able to improvise landings in sometimes small sites with obstacles. The Kangri is a fast glider but it also accepts a lot of braking and this, along with its agility and internal pressure, will allow pilots with more experience to do almost abusive approaches.
The flare is great but, if necessary, you can also kill the wing and go down in "elevator mode".
Conclusion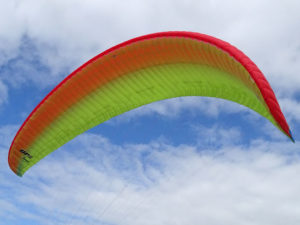 The Kangri is a perfect paraglider for mountain flights and Hike & Fly. This model, whose piloting and safety make it accessible to the general public of EN B wings, has super good-natured inflation and take-off behavior, it is solid in flight and offers great management of the speed bar and glides, and it also offers outstanding speed and penetration capacity.
The Kangri is an adventure paraglider with a high level of safety compatible with pilots of many levels. The most experienced ones will enjoy its turning abilities and overall performance, while rookies will be able to progress in performance and piloting without stress.
+ Info: https://www.up-paragliders.com/en/