As expected, the day was canned on weather. It is getting brighter but after sending two scout vehicles to take off, Meet Director Mr. Marcelo Ratis decided to cancel the day. Good call, the roads are too muddy and very slippery to drive up safely, plus the forecast is for early over developments and rain all over by early afternoon. We are all glad the organisers are prioritizing our wellbeing.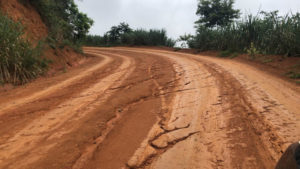 Tomorrow looks much better though, you can hear it straight from the organiser's mouth below.
Meet Director, Mr Marcelo Ratis explains the current weather conditions and gives us his positive outlook for a possible first task tomorrow Monday.
We also asked Launch Marshall Dioclecio Dio Rosendo the reasons to cancel today's task and his thoughts on the coming days. He says there's a lot of rain and the access to takeoff is not safe, but tomorrow there will be good chances to fly and it looks good for the following days. See the video below:
Here some pictures from today and last night's opening ceremony.
For more information and LiveTracking go to: http://hipoxia.com.br/panamericano2020/