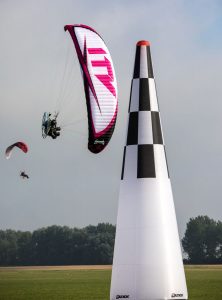 Three aerial disciplines and sixty-six international air sports athletes competed at the World Games in Poland from 20 to 23 July 2017. The World Games, organised by the International World Games Association (IWGA), is the second largest multi-sport event in the world after the Olympic Games, and takes place every 4 years. Held this year in Wroclaw, Poland, it featured 60 different sports and disciplines and 3,500 athletes. Air Sports were represented by Glider Aerobatics, Canopy Piloting and Paramotoring.
Poland's Wojciech Bogdal won the Paramotoring competition after 9 tasks, just 8 points ahead of Thailand's Kittiphop Phrommat in second, with Polish teammate Marcin Bernat (POL) in third. Seventeen pilots from 5 countries took part in the Paramotor competition, two of them women.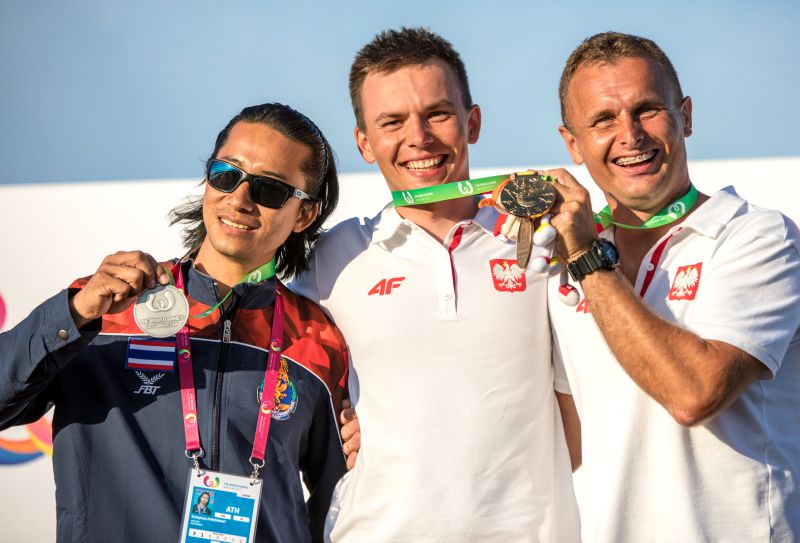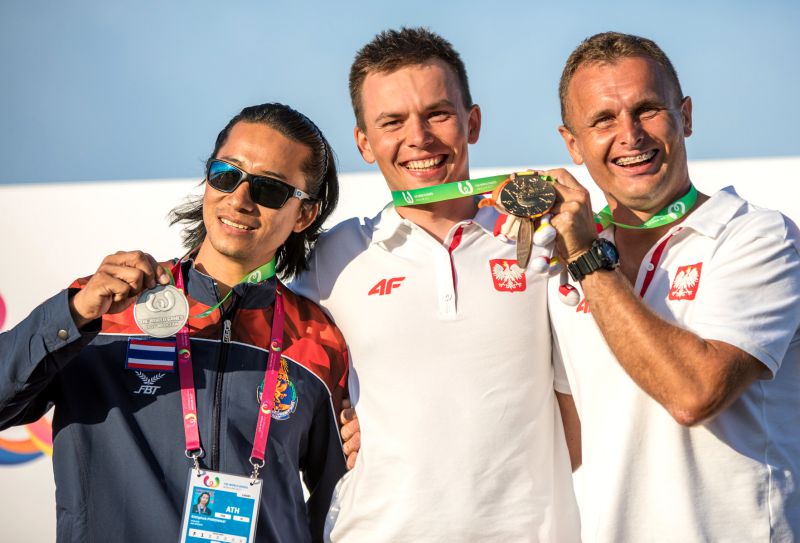 The first Paramotoring session of the last day of competition started early, before 8am, to ensure a quick turnaround of pilots. Organisers were keen to stay ahead of stormy weather which was forecast to arrive later.
Tasks at the World Games

There are five tasks in the World Games: Accuracy Landing; 'Slow / Fast'; Figure-of-Eight Slalom; Paramotor Soccer; and the Swoop Pond. All the tasks test speed, efficient flying, control and precision. In Paramotor Soccer, for example, pilots must fly inches above the ground to kick a football, but thereafter fast and powerfully to take a turn around a 12m inflatable pylon.

Each task is scored separately, with pilots being awarded points for accuracy, precision and speed. The scores are then added together to determine the pilots who go through to the final rounds. Penalties can be awarded for infringements relating to rules or safety.
Last to fly on that task, all Bogdal had to do to finish in first position overall was get round the slalom flying course safely, which he did. He finished fifth in the task – enough to keep him ahead of the pack.
Later, after the medals ceremony in front of a home crowd at the Air Sports airfield in Wroclaw, he said it had been emotional winning in his home country.
"Standing on the podium I felt the same as at the opening ceremony four days ago. I had tears in my eyes."
He added: "I like to fly in front of my home crowd. People were waving, and one even had a flag with my name on it, that was great."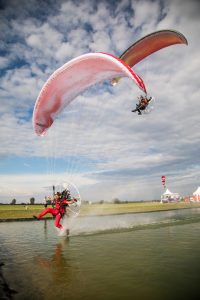 Bogdal, 23, who lives three hours' drive from Wroclaw, said the competition had been "very hard, but we had a lot of tasks and we flew in all our slots. We had more than 12 take-offs, which made it hard."
Bogdal started to fly solo 10 years ago when he was 13 years old. "When I was three years old my father started to fly, so I am from a paramotoring family."
He was joined on the podium by teammate Marcin Bernat (POL), the only two Polish pilots in the Paramotor competition. "We like to fly together and we train together," he said.
+Info & results: http://twg2017.airsports.aero/
*See photo albums on FAI's gallery: https://www.flickr.com/photos/airsports_fai/albums