Everything started in Bir Billing. India is a new country for me: Despite having traveled all around the world, I still didn't know these mountains and valleys, this culture and these people.
For me it was a dream to fly here, as soon as I arrived in Bir, I realized that Hinduism and Buddhism connect very well with me, specially Buddhism.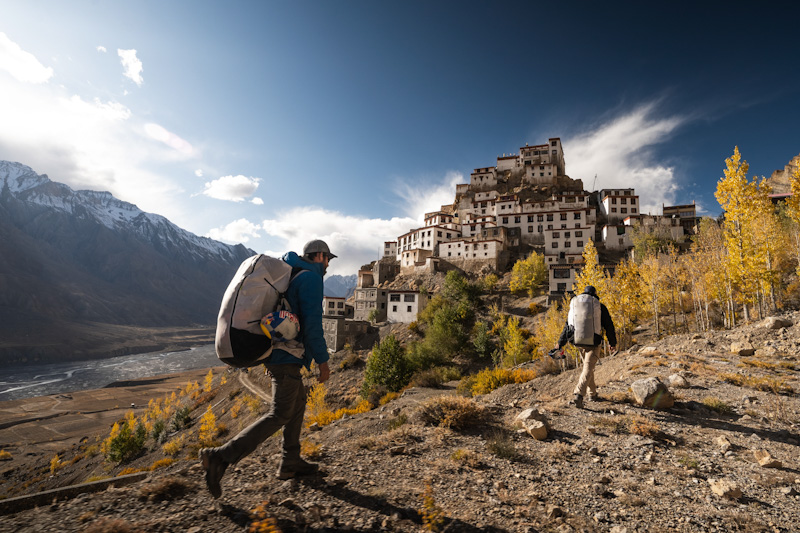 The mountains captivated me from the first moment. The first flights in Bir, to test the gear and try the area, were spectacular. We spent three days flying in the surroundings. So, soon we were ready to start the adventure.
The first important flight took us from Bir to the Manali valley. Heights of more than 4000m, gorgeous valleys and snowed mountains. But due to some cloud development, halfway during the flight we had to land at 2500m, near a mountain pass that was at 4200m, and walk until we reached the pass to be able to take off again.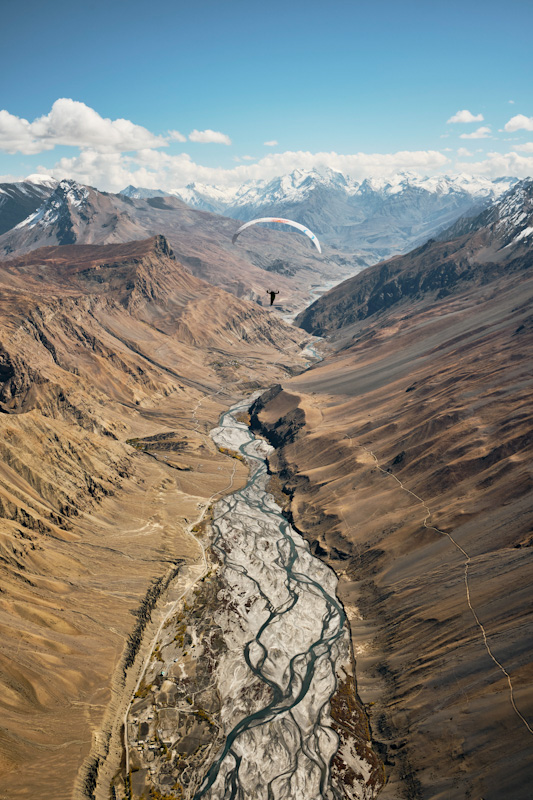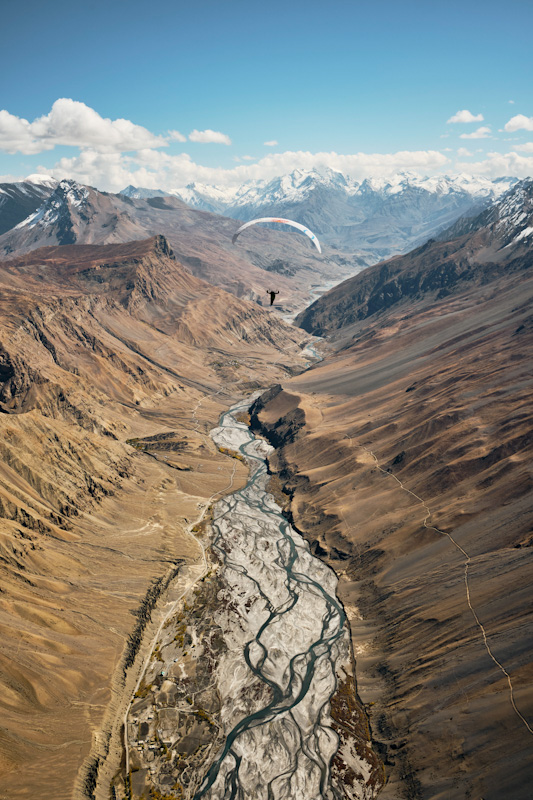 Luckily we got there in time, before the thermal conditions disappeared and we were able to continue flying from there that same day, until in the evening we got to a perfect mountain to do top landing and rest, at 3200m. When we landed we found a little hut and a shepherd with his family and his goats. They gave us some dinner, and let us keep warm next to their fire. Very nice people, despite not being able to understand each other in any language, we had fun and we all laughed a lot. Then Tom and I went to sleep in our tents.
In the middle of the night the wind started to blow really hard, a storm was coming. It rained heavily for hours and in my tent some water was leaking. It was a long and hard night…
In the morning it was quite cloudy, but we were able to take off, flying nearly to Manali, but at the end of the valley it was raining heavily, and when it was time to land it was incredibly windy. We started to fly backwards, in the valley there were not any landing spots, it was full of apple trees. Luckily I managed to enter a little space, but Tom couldn't make it and had a hard landing. He injured his shoulder. The trip didn't seem to start well for us…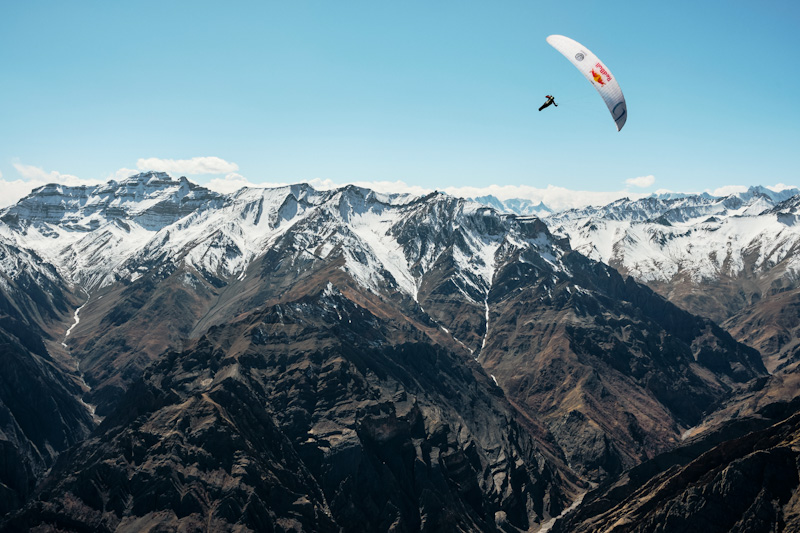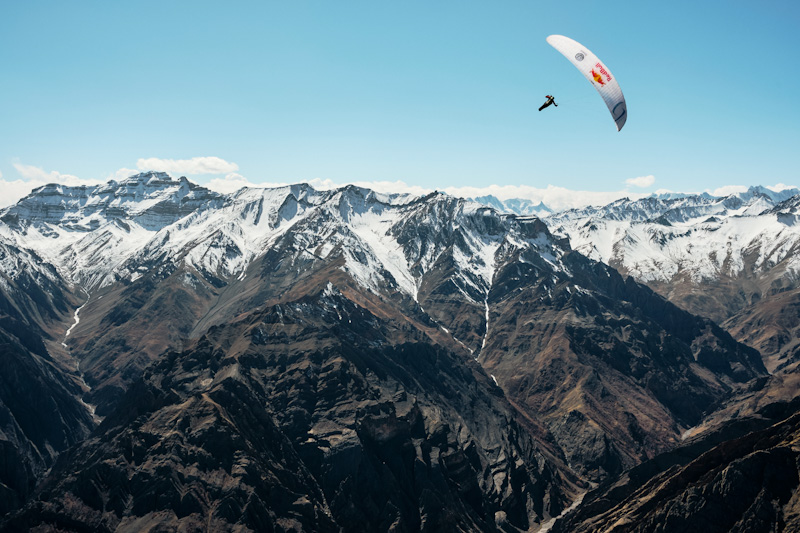 I spent the two following days flying in the surroundings of Manali with Debu, a, Indian pilot very well known in the area, and my friend for some years, since we competed together in the Acrobatics World Cup. I could try the flying possibilities in the valley and I was really amazed by the high mountains that surround it. Flying among clouds, over white slopes and watching the Rohtang Pass, which later I would have to fly over and cross with Tom to reach the high valleys of the deep Himalayas.
On the fourth day Tom was feeling better and he decided to try to fly with me and Debu. The goal was clear: to be able to pass the Rohtang Pass and enter the high Himalayas mountains. Something that very few pilots have done up to date, because of how narrow the valleys are on the other side. At the beginning the conditions were mild and we were finding it difficult to go up, but eventually the 3 of us managed to reach 5000m near the Pass, and we decided to cross. Debu, who was a little lower, went back to try to go higher and he didn't make it, he stayed on the Manali side. Tom and I entered the next valley. The landscape was totally different. Very dry, just stone and soil with very little vegetation and completely closed valleys, very narrow, with just a river and a road in the center. The strong wind would be the keynote from now on.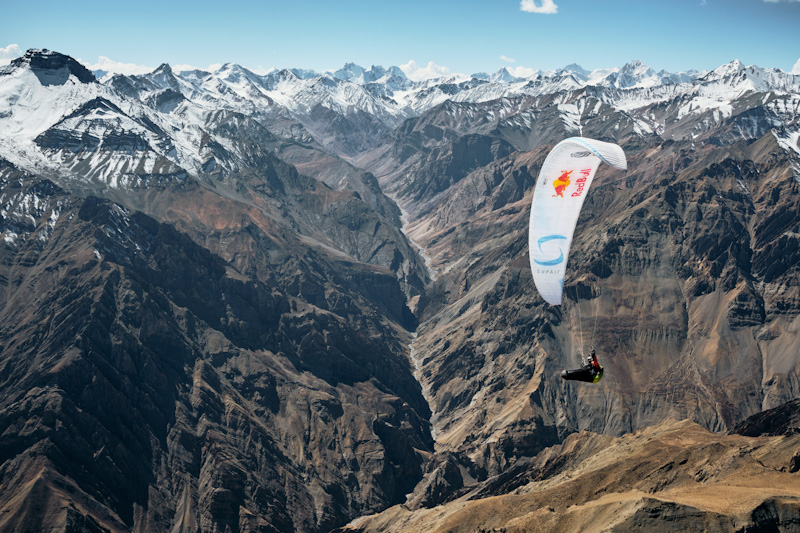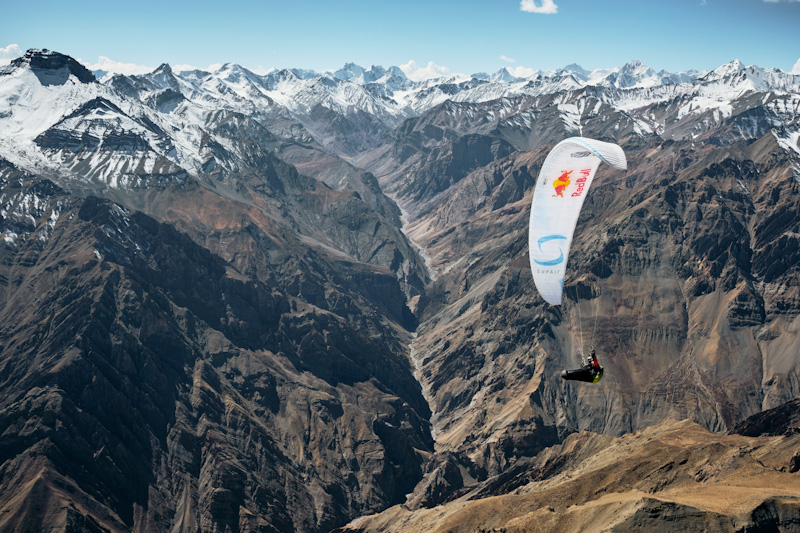 As soon as we entered this valley we realized that the wind was very strong and it was sliding on the mountains on both sides, which were generating nearly no rising breezes. We were able to climb up with a lot of effort and turbulence and we reached the summit of the mountain climbing up to 5300m; around us we could oversee peaks more than 6000m high. We managed to cross to the village of Keylong. Our goal was reached! We landed and waited for the rest of the team.
The next day we decided to go to Spiti Valley by car, because the valleys that separated us from Spiti were very closed, with face wind. It was going to be impossible to reach them flying, even dangerous…
When we arrived in Spiti the valley opened up a little bit and the landscapes showed massive mountains, more than 6000m high. The place captivated us immediately.
The next day Tom and I prepared all our flying and bivouac gear and we got ready to fly.
As soon as we took off we realized that the conditions were hard, with a lot of wind, turbulence, and very broken thermals. We made a short flight and were able to land at 4000m in a slope, to continue the following day. We spent the night in our tents. It was cold, but we had good sleeping bags. The next day we climbed other 300m on foot, until we found a take off spot. When we took off we noticed that the conditions were much better, we quickly went up until nearly 6000m, and we started to see the Spiti Valley from another perspective…We fell in love!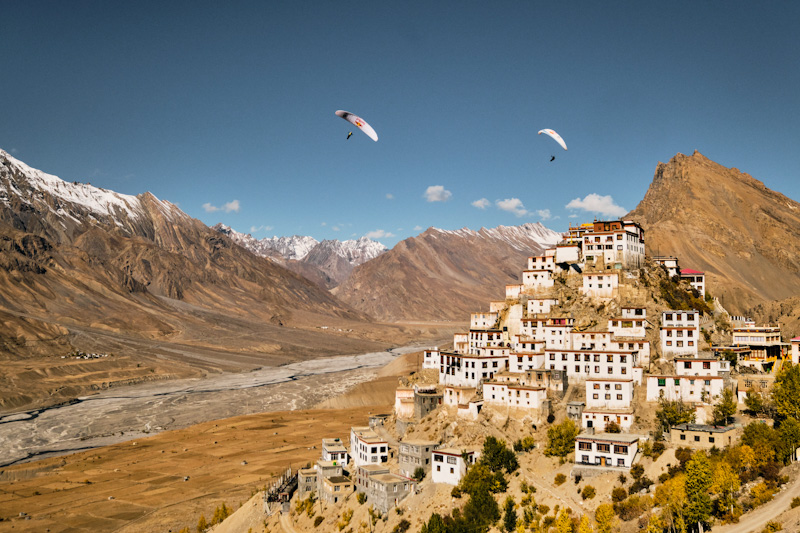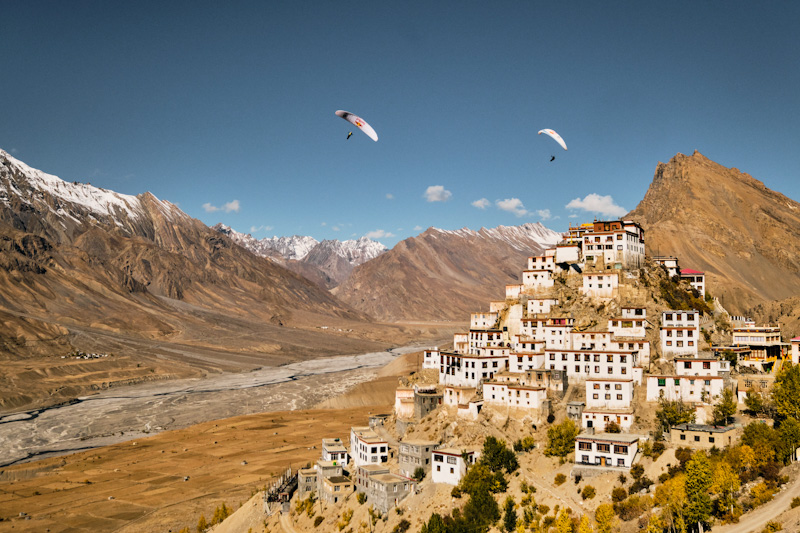 We did a gorgeous flight to Dankhar, the oldest Buddhist monastery in Spiti, 1200 years old. While we were flying we went past enormous walls, very powerful perpendicular valleys and hard but good flying conditions. When we arrived in Dankhar we visited the monastery and loved it. So we decided to spend the night right there.
The next day we went up walking to a little take-off spot over the monastery and we took off with the intention of flying to Ki, where the rest of the team were. But when we went up, we saw that the clouds were growing too much, and it was starting to rain at some points in the valley. It was not safe to fly like that. So we stayed doing a local flight over the Monastery of Dhankar, falling in love with its cliffs and views. A magical place! As we were told, nobody had ever flown a paraglider there; and having the opportunity to enjoy the views of a Buddhist monastery created on the rocky peaks of such an abrupt summit was incredible…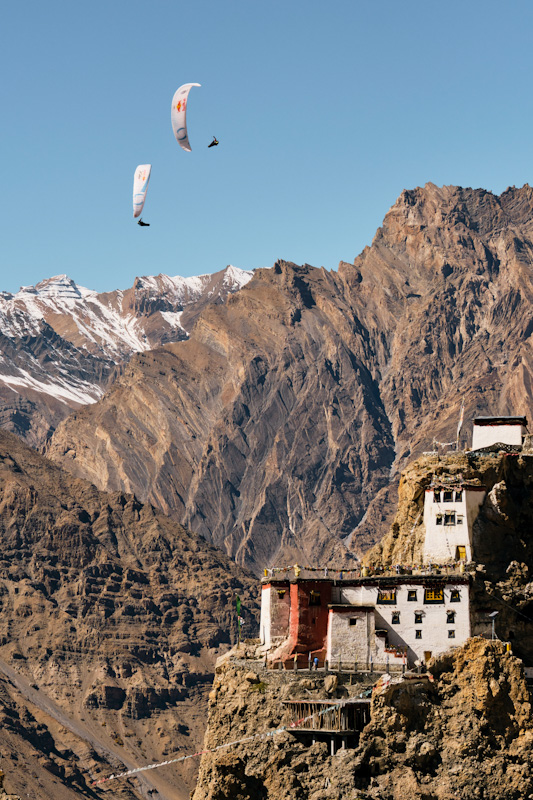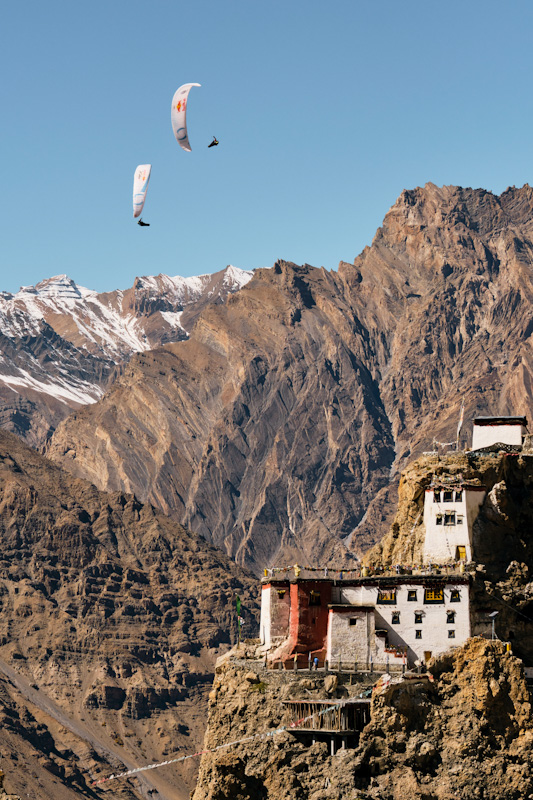 When we landed we got on a truck that was going to Key, it was the perfect way of getting together with the rest of the team. We spent the night in a little village near the monastery and the next day we took off over the Key monastery. We flew over the place, the views were astonishing and the conditions good. When we were satisfied, we decided to go high and cross to the other side of the valley, because it was sunnier, to continue with the flight. On the other side of the valley the conditions were better and we managed to climb up to more than6200m. Despite being already quite acclimated, we decided to leave it there. The cloud bases were at least at 7000m, but we weren't carrying supplementary oxygen and we didn't want to force things. We continued our flight among enormous mountains, crossing gorgeous canyons and at dusk, we crossed the valley again towards Dankhar. Again, that impressive monastery was waiting for us at the end of the valley.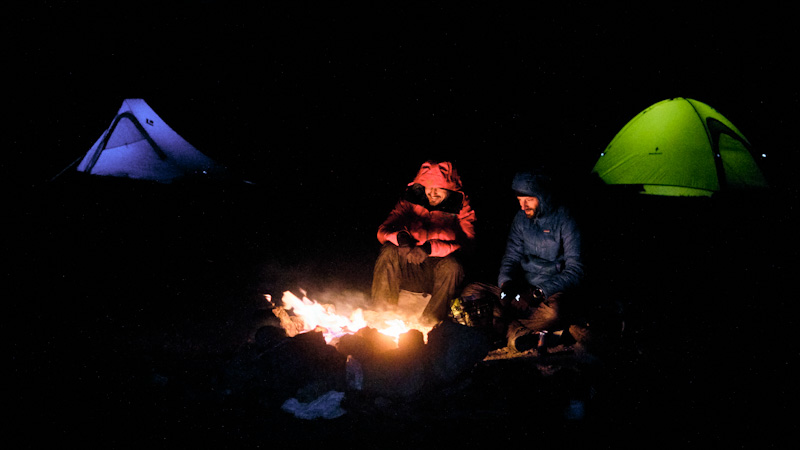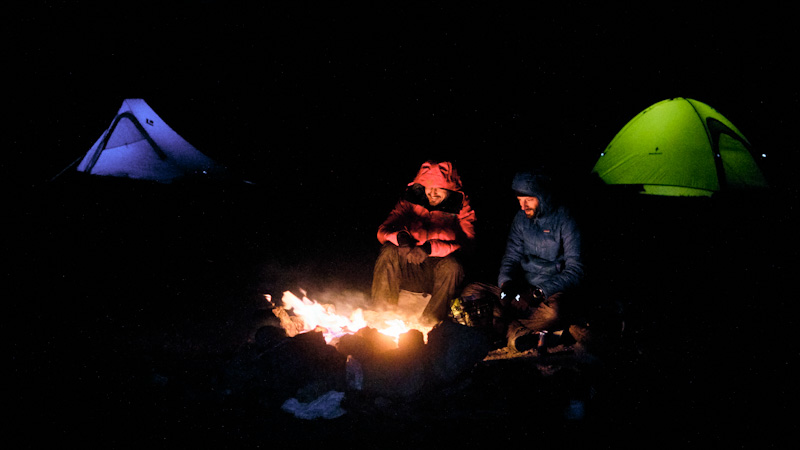 We top landed near the village, but high up, and we walked until we found a little take-off for the next day, which had a perfect lake to get water and camp by it that night. We spent the night by a Buddhist Stupa that was near the lake. We made a little fire and enjoyed some good stories by the flames. We had dinner and went to sleep under a sky full of stars.
The next day we walked a bit higher up and we took off to fly over Dankhar monastery again for more than an hour. It was amazing! We could enter each gap an fly over every little temple of the monastery. The wind was stronger each time until we nearly didn't move and finally we decided to land for safety. We were satisfied with what we had achieved: we had entered flying the high Himalayas mountains until Keylong and went over the whole Spiti Valley flying, in both directions, several times.
Without any doubts, these are flights to be done as a team; a pilot alone wouldn't enter such places and with such hard conditions. But flying as a team with Tom I always felt safe. As we usually say: – We are birds!
Horacio Llorens