In the development of the Piper, the long-standing manufacturer ITV incorporated both new technologies and all their know-how, translated in features like a light shark-nose, diagonal reinforcing ribs, and a new full reflex profile all along the span of the wing.
The result is a glider with "excellent" glide ratio and "impressive speed range", which are fully exploitable in all conditions and with high passive security, the manufacturer claims.
The Piper has new, simplified risers that incorporate a toggle travel clamping system to easily use the trimmers and the speed system simultaneously. The braking system has been improved to give the Piper a "particularly efficient" TST.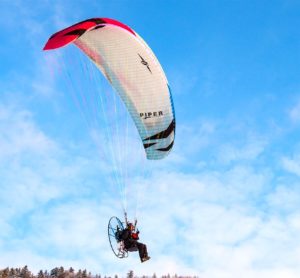 Manufactured with a lighter cloth for the inner sail (Dominico 20D) in combination with other materials, the Piper offers the pilot easy inflation and handling, according to ITV.
The Piper is available in 5 sizes, from 18m and suitable to expert pilots only, to 27.5m and a weight range up to 180 kg if you are an expert pilot. The size to choose depends on the pilot's skills, from leisure or intermediate (less loaded) to advanced and competition pilots (highly loaded). ITV estimates the top speed of the Piper on +70 km/h.
*We hope to try the Piper at Las Candelas PPG meeting in Spain this weekend Feb. 2-3, 2019. Stay tuned!
+ Info: https://www.ITV-Wings.com