A new design incorporating a stronger architecture, a more efficient leading edge with nitinol rods and a trailing edge reinforced with small integrated ribs, make the Hook 5 easier to use and more stable in the air with improved performance.
Niviuk claims that the Hook 5 provides a smooth and progressive launch, as well as an efficient and stable glide with better absorption of turbulence. It is a glider conceived to venture into the pilot's first XC flights and progress safely into performance flying.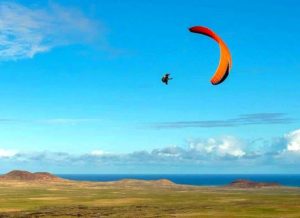 With an aspect ratio of 5.3 and 47 cells, the Hook 5 incorporates advances in the RAM Air Intake system that improve the inner pressure of the profile, making it more consistent throughout the entire speed range and offering the pilot more control and firmness. Its long brake travel allows the pilot to fly at low speed maintaining "complete control in the air" for a safe landing without complications, according to the manufacturer.
The Hook 5 is available in 6 sizes, covering a wide weight range from 55 to 135 kg.
+Info: www.niviuk.com