The long awaited Cure 2, by Bruce Goldsmith Design, was presented as an improvement ¨in everything¨, compared to the earlier model, and is closer to the Diva – the CCC wing of the house- than the Cure. The design benefited from a new simulation software that permits working on the ¨virtual prototype¨ of wings to find out the behavior of a design in a wide array of variables. Therefore, ¨We´ve successfully been able to find the right commitment between the structural rigidness of the wing and its capability of communicating to the pilot what´s happening in the air¨, in Bruce Goldsmith´s own words to us during the last Coupe Icare. This is the most technologically advanced paraglider the experienced designer has ever made.
Cure 2 is a quick wing that reaches 60 km/h says the designer, and is conceived to be flown with a good use of the speed bar, so it incorporates the C/B command system, as the 3 liner wing it is. To achieve a superior performance, we´ve worked specifically in the inner structure of the wing, incorporating bars throughout the cord of the central area, along with 3 tip diagonals, load tape and optimized ribs. We´ve also increased the number of cells to 74 and reduced the aspect ratio to 6.4 with respect of its predecessor, but with a lesser arch and the same projected aspect ratio of the Cure, 4,8.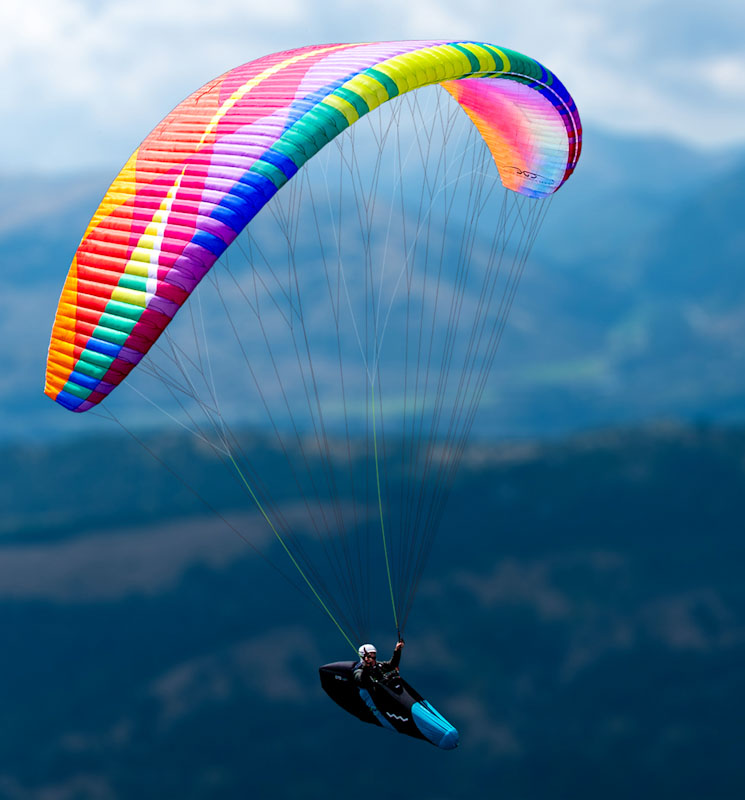 The wing is manufactured with Skytex 27 and 32 fabrics to reduce the final weight – 5 kg for the M size – with Skytex 38 in the top of the leading edge for longer durability.
Cure 2 also incorporates the three-dimensional cut of the house in the top ¨cord cut billow¨ for a smoother and more stable profile.
Bruce assures that this is a quick, solid and very comfortable paraglider.
The brand presented it officially at the last Coupe Icare, where they also showcased a new line of apparel that includes jackets, shirts and backpacks in the colorful palette of the line, distinctive of BGD products.
Here´s the video of our reporter at the last edition of the Coupe Icare, where he also shares some of his own impressions regarding BGD´s last tandem wing, Dual 2, anticipating his full review of it, coming soon.
+Info: www.flybgd.com