Punk, the rather wild name BGD decided to use for its new intermediate paraglider, suits perfectly well the successor of the Base.The new model offers a charisma and style that's a bit outside of what we expect from a paraglider with EN B certification.
The most relevant feature of the Punk is its flying personality: It's the flavor, the "color", and the sensations it gives to the pilot.
The new Punk is undoubtedly a paraglider with a freestyle personality, and it offers dynamic and fun flying.
These characteristics fit perfectly well the level of safety expected of a high EN B, and because its maneuverability is an invitation to play, we should be prudent in our progression until learning the wing's piloting in deep.
Main characteristics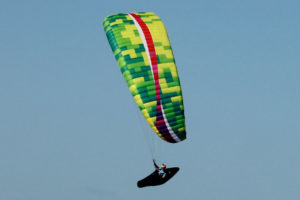 The Punk is an EN B leisure three-riser paraglider (split A risers) with a moderate aspect ratio, 5.07 projected – 5.4 real. The Punk comes in 5 sizes for pilots starting from approximately 40 kg of weight -size XS-, to 110 kg -size XL.
It's a quite light model, the M size weighs 5.1 kg.
This was achieved, in spite of its robust 40gr/m2 fabrics, with an accurate inner design that incorporates details like "triple finger" ribs that go through the cell holes and provide the glider of a sophisticated and efficacious distribution of weights and inner loads; or the CCB/Cord Cut Billow that results in a very clean leading edge and an outer sail with only 54 cells.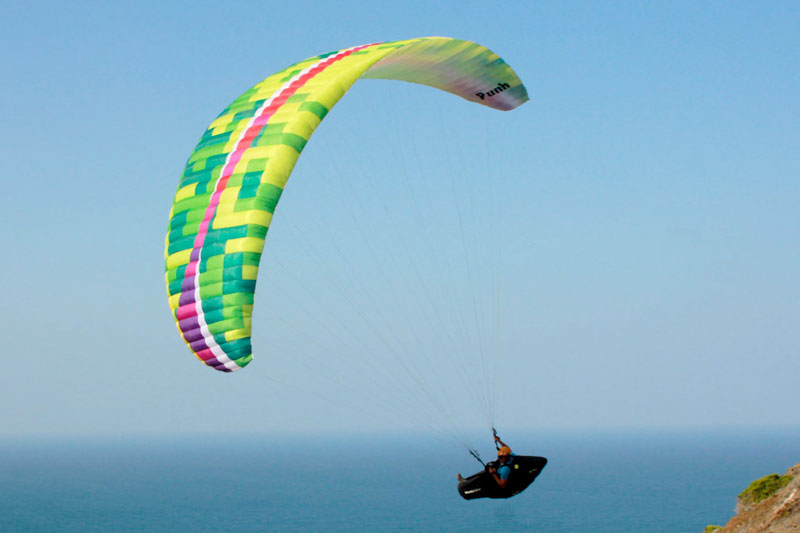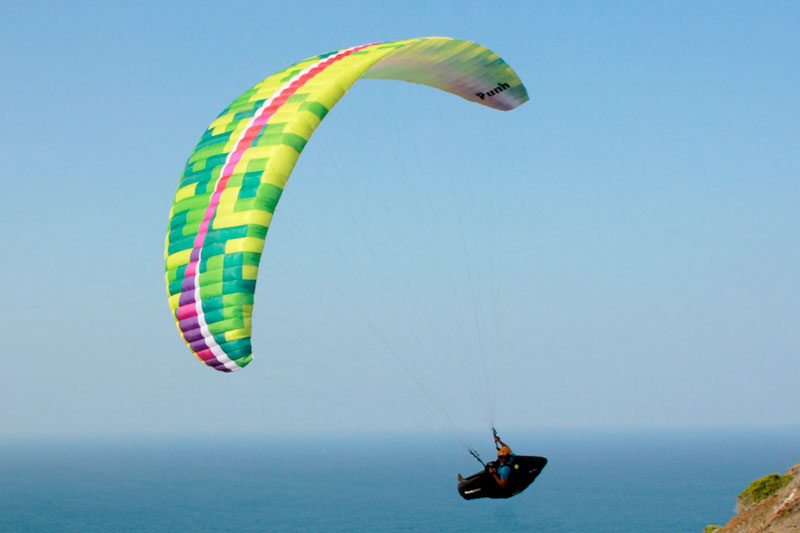 Test flights
After a number of flights, a lot of fun and several adrenaline highs, I have some impressions to share with you about the flying characteristics and who I believe the Punk is aimed for.
Ground handling and take-off
Before even trying to lift the wing I noticed the light feel of the commands and the wing's immediate response. Ground handling the Punk is a game; it goes up smoothly, it requires little effort and once it starts rising it does so with pressure and cohesion.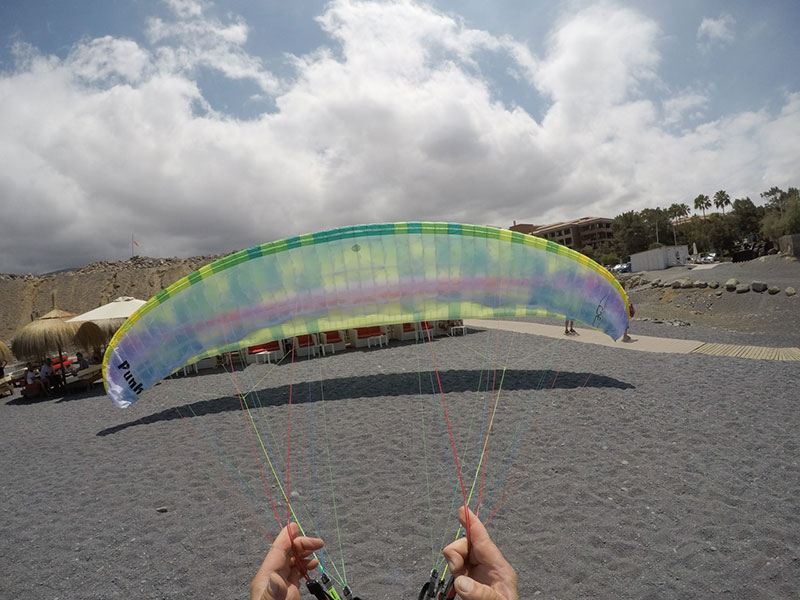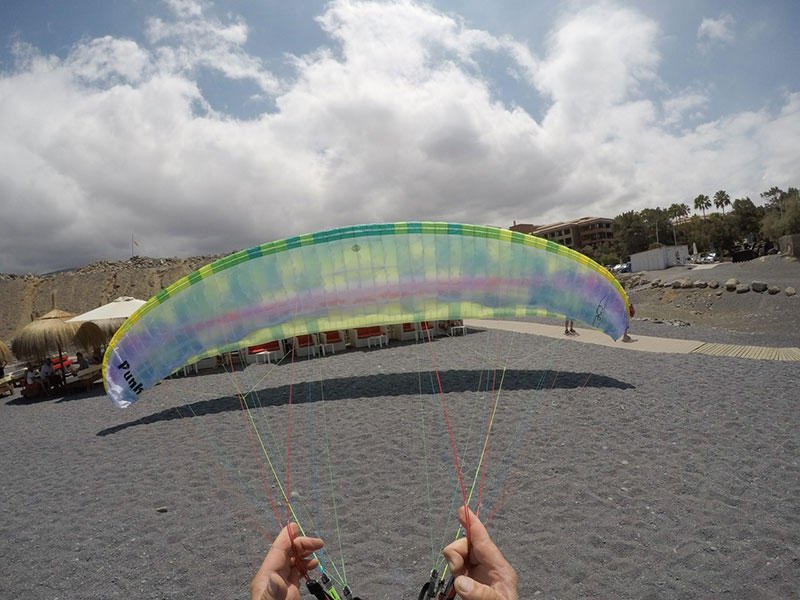 Regardless of the way you leave it on the ground, any breeze coming in will let you lift the glider over your head from almost any position.
Once the wing is in the air above your head, keeping a bit of a grip on the brakes is best, since it tends to yaw when let loose, in other words, the tips can move forward and backward. The wing tips hold the pressure and don't collapse but they go light and are a bit "alive".
The Bruce touch taken to extremes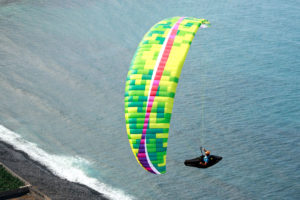 My first flight, in an afternoon with a good breeze for slope soaring, I took off quite motivated and in a playful state. With the wing above me and two steps later I was airborne and gliding into a laminar and dense breeze, perfect to try the turns and experience the Punk's most playful side.
As soon as I separated a bit from the slope I made a quick "waka" turn and whoa! I almost overdid it… this wing really turns. You barely have to insinuate the turn and the trajectory is started. In fact, with each turn, the wing tended to go for more. While other paragliders require the use of more brake to make sharper turns, with the Punk, you must learn to measure out.
This characteristic is not only good for making wing overs and freestyle flying easy, the Punk is also a thermal thrasher and there's no such thing as a too tiny core for it… It's my sincere opinion that there is no other Club (EN B) class paraglider so darn agile and efficient in sharp turns.
For the flat turn, which it can also do, you need to set the wing in position without allowing it to tip… though more functional, this turn is also more boring.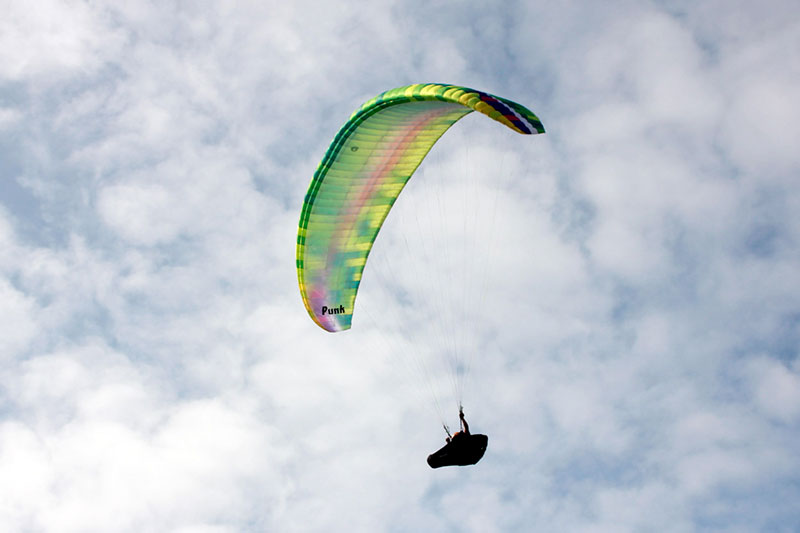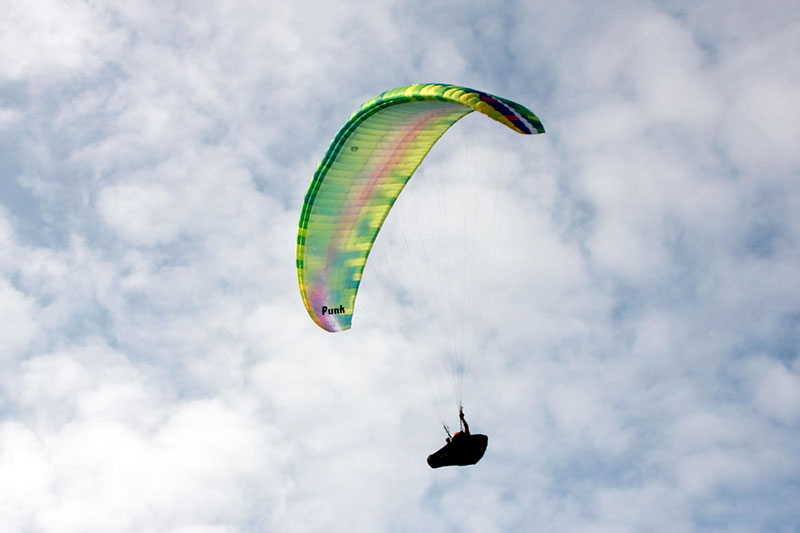 Glide and speeds
Bruce announces a 10.5 glide ratio, a pretty good ratio indeed – though my 'para-sense' tells me that the Punk is not one of the leaders when it comes to EN B glide performance. This wing glides with extra performance to enjoy long XC flights and even compete but the virtues of the Punk, in my humble point of view, lie on the wing's maneuverability and the more recreational aspects of flying.
The speed bar is soft and highly efficient, bringing it from 39 km/h hands up, to 53 km/h. The glide performance is kept well into half the bar, but at full speed the performance deteriorates and it only pays off upwind. For better overall performance, I wouldn't step on it any further than three fourths of the speed bar's length.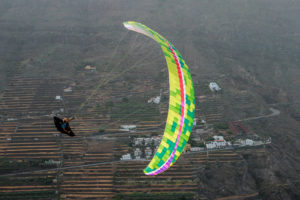 Safety
I tried some collapses, front and asymmetric, and felt confident and comfortable. The wing did not overshoot and reopened with a healthy reaction.
The spiral is different: since this glider can truly turn, one can easily expect things to speed up if we exaggerate the turn. We should be fully aware of what we are dealing with to not get carried away.
And the same advice is applicable to all the turns. As I've mentioned several times, the Punk has a very good turn and you have to bear that in mind for it to be a virtue and not a weakness: if an enthusiastic rookie crosses the line he/she could be getting into trouble. Therefore, we should be careful and make progress with caution when evolving into the Punk's sportive handling.
Who is it for?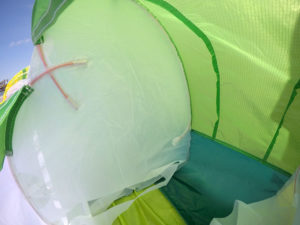 The Punk is a 100% recreational paraglider, it is ideal for local flights, slope soaring, and to enjoy thrilling afternoons of freestyle, great to experience the centrifugal strengths of the turns and the emotion of wing overs. It is also wonderful to center tight cores and feel all the power of nature in your hands.
When it comes to XC flying we can find more glide performing wings but few of them will allow you to push as much and scratch in such tight places like the Punk.
That's why my definition of the Punk is that of a glider with an intense personality. For some pilots, this wing will undoubtedly be "their style", while other pilots who fly straight and leveled will probably not feel so at ease with it.
Materials
Outer sail: Dominico N30 42g/m²
Inner sail: Porcher Ezzyfly 40g/m²
Inner structure : Porcher Skytex 40g/m²
Strengthened nose : 2,4mm plastic rib.
Risers : 13mm black Kevlar/nylon webbing
Pulleys: Harken and Spenger
Superior lines : Liros DC (unsheathed)
Intermediate lines : Edelrid 8000U (unsheathed)
Inferior lines : Liros PPSL
Brakes : Liros DC
+ Info: http://www.flybgd.com/
SPECIFICATIONS
XS
S
M
ML
L
Linear scaling factor
0.92
0.96
1.00
1.04
1.08
Projected area
17.83
19.53
21.23
22.93
24.63
m²
Flat area
21.00
23.00
25.00
27.00
29.00
m²
Glider weight
4.4
4.7
5.1
5.4
5.8
kg
Total line length
204
224
243
262
282
m
Height
6.7
7.0
7.33
7.6
7.8
m
Number of main lines
3/4/3
A/B/C
Cells
54/102
Flat aspect ratio
5.42
Projected aspect ratio
4.07
Root cord
2.46
2.57
2.68
2.79
2.89
m
Flat span
10.67
11.16
11.64
12.10
12.54
m
Projected span
8.46
8.85
9.23
9.59
9.94
m
Ideal weight range
50-65
60-80
75-95
88-108
100-125
kg
Trim speed
39
km/h
Top speed
55
km/h
Min sink
1.0
m/sec
Best glide
10.5
Certification
EN/LTF-B