The German brand was present with two new launches at St. Hilaire: the light EN C wing Helios RS and the new tandem glider "for professionals", Twin RS2.
Swing's rep at the stand informs us that the Helios is the firm's main novelty presented at the Coupe Icare. This paraglider was conceived as a genuine EN C and is the lightest in its class. The Helios RS size S totals 3.9 kgs for the 80 to 95 kg weight range. The lightness of the paraglider was achieved in part by the Nitinol rods incorporated to its nose, along with a much optimized inner structure.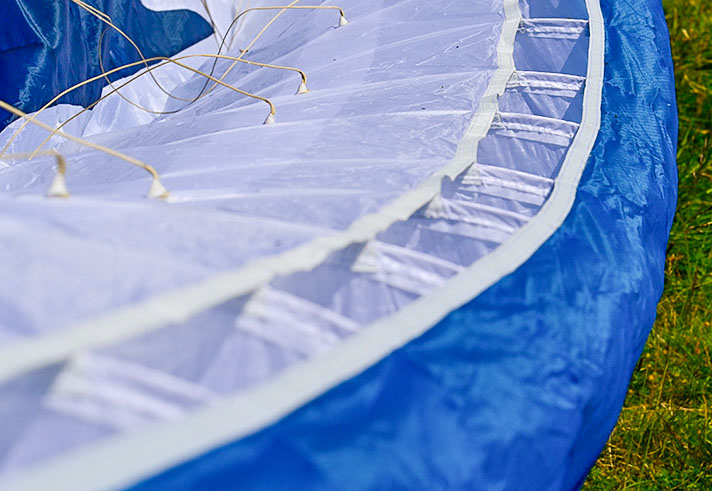 "We were between making a high performance, very spicy EN B glider or a genuine EN C wing, so we opted for the later", they say. The decision was also made considering that Swing already counts with a racer wing in the same EN C category, the Agera RS. Therefore, the Helios RS is positioned as an all-rounder, recreational wing or "easy EN C". This 3 riser paraglider has handles in the C risers for steering when using the speed bar, and mini ribs incorporated to the trailing edge.
"The Helios is a light paraglider that weighs less than 4 kg in total, built with RAST technology", we are told at Swing. For those who don't know RAST (Ram Air Section Technology),it is a construction system patented by Swing that basically consists of a vertical partition that keeps the inner pressure in the rear part of the wing thanks to a system of valves that allow the air into that section but blocks it from coming back out in case of a collapse or strong turbulence. It makes the paraglider stiffer, more solid, therefore collapse resistant and more comfortable to fly. Swing has been introducing this technology to its entire paraglider range since 2016 and they are very happy with the results.
In brief, Swing opted to present a new EN C model for this season at St. Hilaire; a wing aimed at attracting the pilots who choose flying in the sport category in a comfortable and recreational manner, without sacrificing the performance with a new compact and lightweight deal: Helios RS.
The second novelty of the German maker for this season is the development of their new high-performance tandem paraglider "made by professionals for professionals", they highlight. For the Twin RS2, Swing focused on developing a wing with a stable behavior to deliver stable and relaxed take-offs and landings. "Easy to launch and land, and stable in flight", they assure. The Twin RS2 also benefits from RAST technology. The only size available for the time being is the big one, 48 m2, but they are currently working on a smaller 38 m2, we are told.
Check out what the people at Swing told us in this exclusive video report for Ojovolador:
+ Info: http://www.swing.de/