The Torre peak, located in Chaltén, Argentina, 3128m high, presents great climbing difficulties along with a hostile meteorology within a huge and inhospitable landscape. After reaching its summit with his team and spending the night there, the take-off, made in the wee hours of the morning to avoid thermals, small and decisive, is exclusive for the brave, as we can see in the superb shots registered with the drone at this extraordinary site.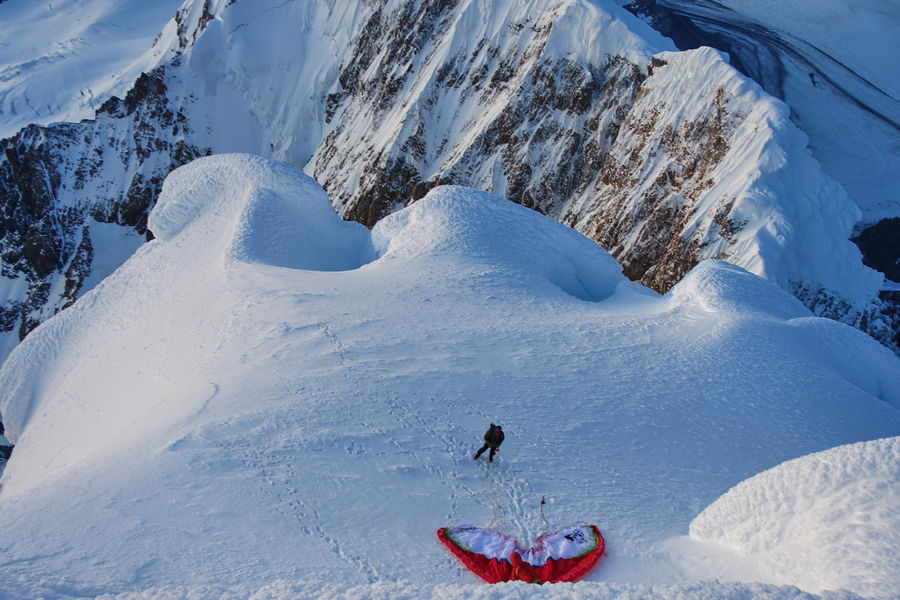 «For my surprise, unfortunately the wind was quite gusty and coming from the wrong direction», explains the climber in Revista Desnivel. «So my run was from 5 meters below the summit to protect myself and be able to take off leeward. I tried to concentrate to keep making reasonable choices, waited for a bit of wind and raised the wing but unfortunately it came a bit from the side so I had to stop and control which shortened my run to gain speed. Three steps more and the terrain became completely steep so I jumped a bit to load all my weight in the wing».
«I ran the 60° downslope before the paraglider jumped off the cliff leaving 1,500 meters of void below me, I let the adrenaline take over me during that imperfect take off. I truly enjoyed the beautiful landscape flying between the Fitz Roy and the Torre tooth at sunrise. It was one of the most magical moments I´ve experienced so far in my short life as a paragliding pilot.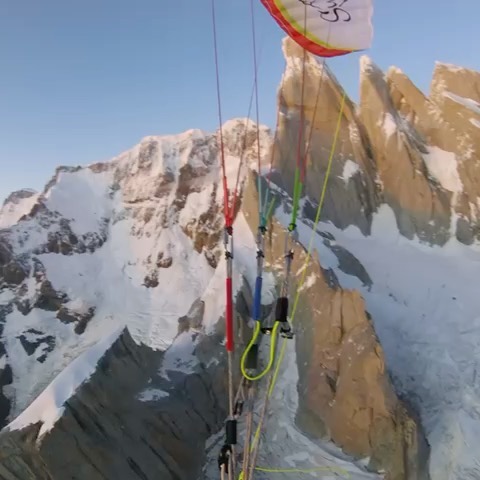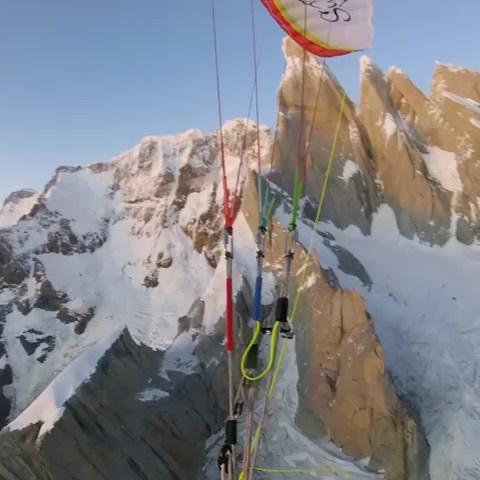 After 17 minutes of sheer pleasure, I had a smooth landing in the glacier below and started to walk back to El Chaltén. It was very simple, I was happy to be in town at noon having coffee. I thought of my friends who still had a long rappel descent ahead and after that, a good walk back to town.
Flying from these kind of mountains is only possible if everything goes well and you are lucky enough to have the wind on your side. Until now,there have been three take offs from the peak of Cerro Torre but they were all transported by helicopter there. Also, the Pin brothers climbed the Ragni route in 1988 but they had no luck with the wind and had to rappel down. I feel truly fortunate that luck was on my side and I was able to climb & fly», concludes Buhl.
In complete awe, we congratulate Fabian Buhl and his team and share with you their video of the feat.
Tech Specs:
Date: 05-07 Feb 2020
Location: Valley of the Cerro Torre, Chaltén, Argentina.
Climbers: Christopher Ogier, Jean Baptiste Tapie, Fabian Buhl, Laura Thiefentaler, Mathieu Perrussel and Rafaela Haug.
Pilot: Fabian Buhl.
Camera: Laura Thiefentaler, Rafaela Haug & Fabian Buhl.
Drone: Jeff & Priti Wright.
Music: OM-Meditation is the practice of death.
Follow Fabian Buhl in Instagram: https://www.instagram.com/fabi_buhl/