The renewed lightweight reversible harness by GIN weighs only 4.2 kg, a really reduced weight, taking into account that it is a complete harness which includes a seat board, a backpack with 101 lt of capacity and airbag. It has been carefully made, and the new material GIN uses is light but also strong.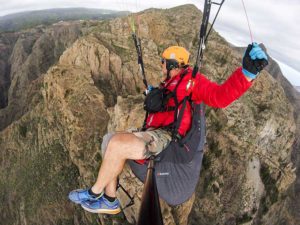 It is a harness for sitting position, comfortable, stable, but also dynamic and with good body handling. I am 1.87 cm tall and I weigh 100 kg, and I was flying with size L (180-190). In this size, the harness fit me like a glove. Well integrated in the harness and deep enough to feel comfortable.
There are 5 sizes of Verso 3 harness! From XS for less than 1.65, to the XL for more than 1.85m. Thus, it is easy to choose the size that better fits your height.
Verso 3 has ABS system, which offers stability when you lean over one side. However, this harness offers high dynamism and agility in flight.
Hike and fly, everyday use and travel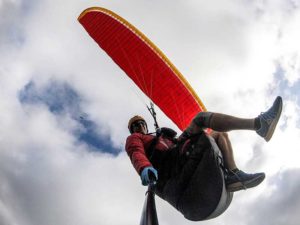 Let's calculate some sport lightweight gear: Verso 3 harness: 4.2 kg, plus 1 kg from the parachute, plus another kg between the helmet, instruments and water, and we finally add the weight of a light paraglider (not ultra-light), for example the light low and mid EN B by GIN: the Calypso of 4.2 kg or the Explorer of 4.1 kg. This means a backpack in less than 11 kg. A weight to walk perfectly assumable for a man of my size.
This weight makes it a reasonably good option for your Hike and Fly adventures, although its more evident vocation is recreational flight and every day use. It is undeniable that such compact and light gear is very easy to transport, it takes up very little space to travel easily by train, plain, bus and you can even take it on your motorbike! The backpack is well adjusted to the back, and both the shoulder straps and the waist one adjust perfectly.
Performance?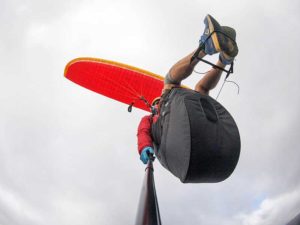 If we look for performance we will have to look for harnesses such as the GIN Genie Lite 3, Woody Valley GTO Light or Advance Impress 4. Harnesses with cocoon and back fin. But verso 3 is a compact harness that features a reduced front section, which allows you to get a good glide. The accelerator runs well, and when you use it you keep a good flight position.
The material is strong and waterproof! This new grey material repels and conceals dust and dirt, so it stands every day use very well. We have been using a Verso 3 intensively for 3 months in the dusty and stony take-offs of Taucho and Ifonche in Tenerife, and I can say that this fabric accumulates little dust and even so it stays spotless, without any visible wear or signs in the finish or seams.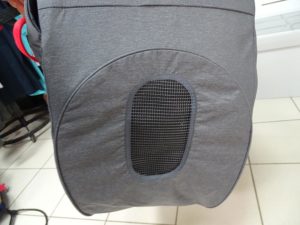 The airbag pre-inflates 70% automatically and it protects the bottom part of the pilot, the most sensitive and exposed.
Summing up, it is a comfortable harness with good handling, perfectly useful for adventure flight, ideal to improve mobility in your trips and journeys, and also strong enough for your usual flights.
Reversible harness, with airbag, and very complete.
Compact backpack to walk and travel
Dynamic handling + ABS stability
Strong material
Some details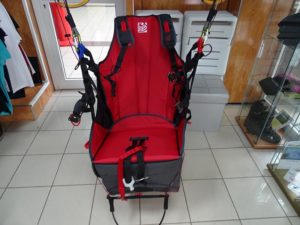 Parachute under the seat with a container with a special handle, it includes the V strap to connect the reserve to the harness, and it also runs along a tunnel, so it is not exposed. The harness comes with carabiners, accelerator step, and it counts with all the important details:anti-forget waist strap, legs straps with quick lock and chest lock with a whistle.
The lower part has been reinforced with baby rip stop 210D, it has 3 side pockets, 1 front pocket and a big side pocket.
+Info: https://www.gingliders.com/es/harnesses/verso-3/
In Spain: https://www.kasana.es/producto-gingliders-verso-3