As we climbed into the buses to take-off we all got drawn into our thoughts and started getting in the zone. For those like me, visiting for the first time, the ride to the launch site is quite an experience.  Baixo Guando must be one of the most beautiful places we've visited.  Lush forest and long, I mean 6ft long, grass covers it all with exception of this surreal, near-vertical granite peaks.  It feels like a movie set for Jurassic Park.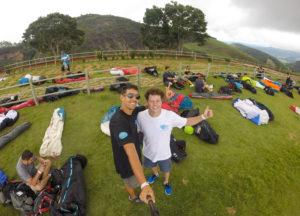 Once on take-off, we get ready and get our first briefing but then, the clouds start bilging up and before we know it, we are all racing to get our gear under cover.  It poured down for two hours… forget the task!  We won't even manage to drive down in this weather.
Two hours later, the skies open and a new task is set.  A 'short' 37Km race to goal is set with a 1.5 hr window to the task start for 15:15LT.  The wind dummies take off and we all cheer 'Gege' as he catches the first thermal.
All pilots take off and start the slug up cloudbase, in this weak, low base conditions it was bound to get 'cozy' before the start.  It wasn't long before we exchange 'friendly' greetings as we elbow our way into the weak lift.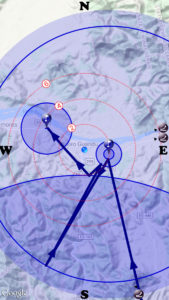 The task is on and we all gingerly take the first glide towards TP1, nobody is racing full pedal, more like 30, 40% accelerator.  Many pilots never find another usable climb, especially those who had dessert the night before. You've got to be light today.
The main gaggle progresses well but slowly around the course.  Pilots start dropping like flies, amongst them one of the 'big' Nations with 6 pilots in their Team, Argentina. Brazil, on the other hand, is doing well as Nations today, same for Team USA with Cody Mittanck and Mitch Riley scoring well.
As pilots landed in remote places, some epic walk out stories are born.  The main ones perhaps belong to Andre Modelo, walking 3.5hrs past sunset. Luckily it was full moon, or he would still be in the jungle now.  Daniel Mass lost his brand new, never before flown instruments after a water landing "It looked a shallow puddle from the air…I saw some ducks and they were wet only up to their chest in water… ".  Last, chubby Spaniard Oscar Falcon, YouTuber 'un Gordako por el Mundo', nearly gives up on life after landing two hours away from any road "I thought I would have to fish my way to survival…".  Luckily, he found his way out or humankind would have been facing another mass species extinction.  Back to the race and those still in the air.
As pilots approach the glide to the second to last TP, multiple world record holders Frank Brown and Rafael Saladini show why they are amongst the world's best.  Picking some lift lines and progressing forward, they leave the field behind… or are they? There's a third pilot joining this unlikely 'ménage a troix', young Argentine pilot, new talent from Tucuman, Ignacio Ortiz is in the mix. Ignacio momentarily takes the lead but at less than 10Km from the end and with conditions dying he eases off the pedal, " it was too weak to go solo, I wanted to wait".  Rafa appears to take the bait first time round rocketing past him high towards the second to last turn point.  He is so high, he marks, goes back to the last TP and starts gliding towards goal, now, worryingly low. He needs a climb. Full pedal,  ending up ahead, but low.  Frank by now is landed paving the way to Jaison Seferino and Christiano Ricci to approach the leaders.
Rafa is nearly on the deck as Ignacio catches a weak thermal when marking the last turn point, hanging to it as if his life depended on it. He can't see the goal, but he knows is near, yet he can't reach it, he needs to climb.
The lift is weak, so weak! Rafa gets anxious, he finds nothing, sees Ignacio and flies back the course upwind to join him on the climb… too late, second bait taken.
Ignacio has been laughed at for flying with a ridiculous 12Kg of ballast water, now is his time to laugh back.
Llegada a gol Panamericano Ignacio Ortiz (T2)

La primera manga válida del Panamericano de Parapente en Brasil se voló ayer en condiciones difíciles y con un solo piloto llegando a gol, el argentino Ignacio Ortiz que captaba el momento en este video:

Publicada por ojovolador.com en Martes, 10 de marzo de 2020
He releases the ballast water and two things immediately happen.  First, flood warnings are issued in the region and second, like a caterpillar (gusano) metamorphosis into butterfly, he has now transformed into a dandelion drifting with the wind. Rafa reaches him but unless he chops his legs off to lose some weight, he won't mange to climb on that.  The young Argentine and his cunning take the day, he is the only pilot to cross the goal line today.  Enjoy your moment sir!
For full results: http://hipoxia.com.br/panamericano2020/results/
Nations Results:
| | | |
| --- | --- | --- |
| Position | Nationality | Scoring Pilots |
| 1 | BRAZIL | Cristiano Ricci da Silva, Frank Brown |
| 2 | USA | Cody Mittanck, Mitchell Riley |
| 3 | VENEZUELA | Ricardo Navarro, Carlos Daniel Gomez |
Womens results:
| | | | | |
| --- | --- | --- | --- | --- |
| Position | Pilot | Nationality | Sponsor | Glider |
| 1 | Violeta Jimenez | USA | Eagle Paragliding | Ozone, Zeno |
| 2 | Bianca Heinrich | USA | Eagle Paragliding, Bozeman Paragliding | Niviuk, Evox |
| 3 | Joanna di Grigoli | Venezuela | Gin Gliders, La Sambuy | Gin, Leopard |
Overall results:
| | | | | |
| --- | --- | --- | --- | --- |
| Position | Pilot | Nationality | Sponsor | Glider |
| 1 | Ignacio Ortiz | Argentina | Aerolineas Argentinas | Ozone, Enzo 3 |
| 2 | Rafael Saladini | Brasil | | Ozone, Enzo 3 |
| 3 | Jeison Seferino Brito | Brasil | Flow Paragliders, Federaca Paulista de voo livre | Flow, Spectra |
| 3 | Cristiano Ricci Da Silva (Vermelho) | Brasil | NAFAR ACADEMIA | Ozone, Enzo 3 |
For more information and LiveTracking go to: http://hipoxia.com.br/panamericano2020/