UP's new progression paraglider Kibo 2 is an accessible, safe, easy-to-fly, fun EN B paraglider with amazing performance.
This model from UP has flat aspect ratio of 5.3, and 4.3 projected. It has 53 cells and it is available in four sizes -from 22 to 28m2- covering a weight range from 65-85 to 100-130 of size L, which was precisely the size we flew for this review.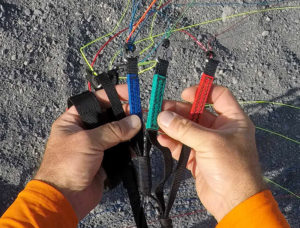 Before we go into details, I want to note that we have seen a noticeable evolution of the UP range in the last seasons. With their own technology and a great design team led by Frantisek Pavlousek, who has been responsible for worth mentioning models like the Trango XC3 and the Trango X-Race, outstanding paragliders in the EN C class, whose performance is still current, as well as the Summit XC 3 and 4 (EN B), or more recently the Meru, a top performer in the 2-line Serial class and the Guru, possibly the CCC with the best turning behavior and the easiest to fly.
But of course, we should not forget the original Kibo that we tried 4 years ago (see our review here)which offered me a great and safe flying experience, a lot of fun and a good performance to progress. An attractive formula that has well evolved into the Kibo 2.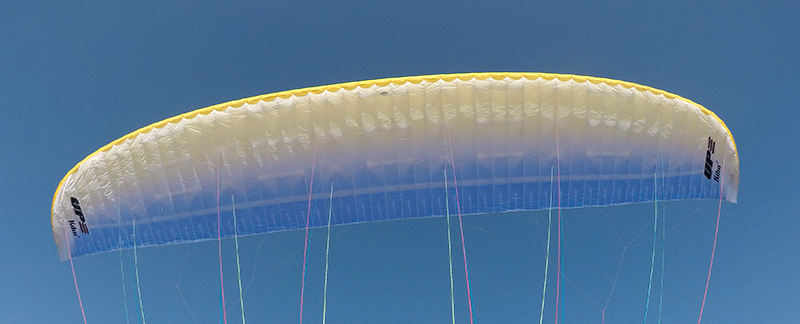 The first test flight I did with this 3-liner from UP was extremely rewarding because it offered me, among other things, the most exciting low-save of the year. This climb "in extremis" also allowed me to see and explore the Kibo 2's abilities for thermal flying.
Ground handling and Take-off
The Kibo 2 has EN A inflation, that is, school level: a push to the risers and the canopy rises almost automatically. You don't have to be very precise; this A-class paraglider is simple and friendly from the start.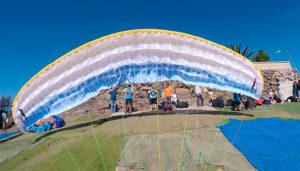 The glider comes up as a block and stays overhead without swings, asking for little or no correction. Any beginner pilot will feel comfortable and will find no trouble to progress in inflations and takeoffs.
After a few good practices of ground-handling or "kiting", I realized that although the Kibo 2 has quite easy inflation, it is an interesting toy to train and help develop skills.
In flight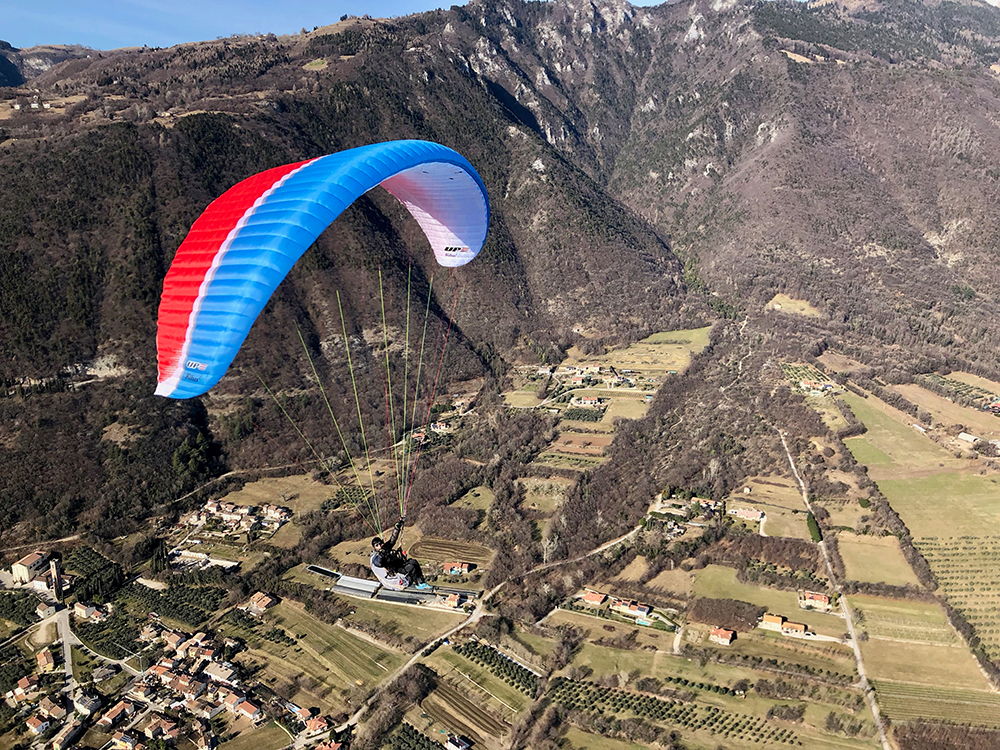 The Kibo 2 produces lift soon; a few steps and we are in the air. In flight, the wing feels solid, but with some elasticity. The Kibo 2 crosses the air gently, with defined trajectories and a feeling of efficient glide. If you run into some turbulence and leave the controls unattended, you notice its self-stable tendency. Just use some weightshift and the Kibo 2 will fly in harmony.
For me, the Kibo 2 is docile and stable enough to be your first B glider, but it turns out it can still be much more.
Effective and fun turn and handling
If we only use the first part of the brake travel, between 15 and 20 cm, we find a soft and floaty turn, suitable for landing approaches, for slope soaring or for climbing in a broad lift.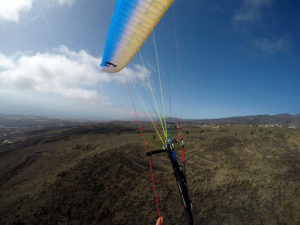 But when it is time to turn, this simple little glider has a second speed, a "turbo-turn" mode that you can activate if you want to, and which offers a very sporty side.
At first, as soon as I took off on the first test flight, I came across some tight and spicy thermals. The lift was so tiny and bubbly that the tandem gliders were having trouble climbing as with each turn they were out of the core. Instead, I felt effectively happy going round and round up like the Tasmanian devil.
In this model we find the canopy relatively close to the pilot. The Kibo 2 also has a moderate aspect ratio, so if we develop active piloting and with an amplitude of travel, we can achieve a great pendular effect with especially closed turns. Quite flat if you want or, on the contrary, very steep. The design configuration of UP's new EN B model offers an effective handling to center narrow cores, and I can say that with few wings you can center a thermal in such a safe and controlled way.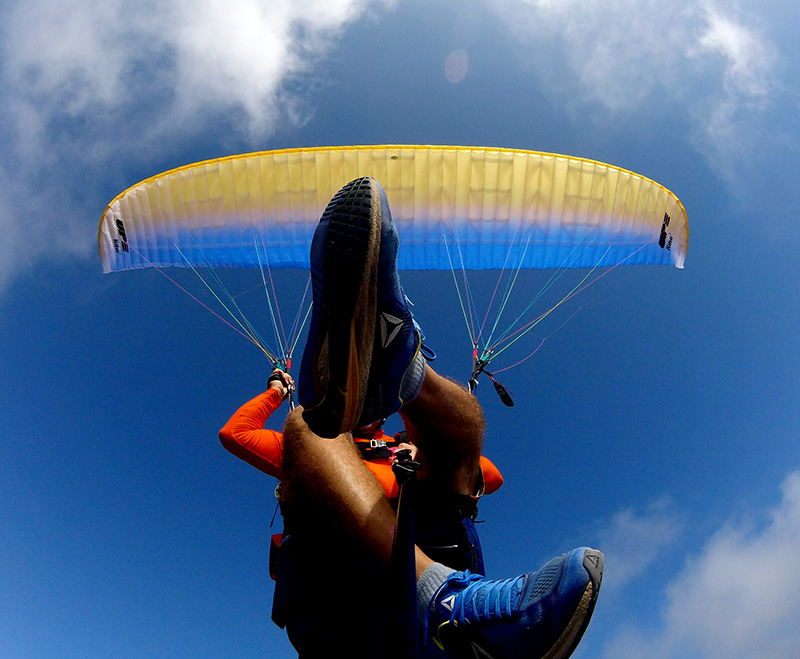 I had a really good time carving those powerful, narrow thermals. At a certain height, the thermals were merging and ended in a large mattress of lift, just 200m below cloudbase.
It was an epic moment; I was giggling in flight as I climbed effortlessly, there was lift everywhere! I did wingovers and spirals, I pulled the brakes to the fullest, I stepped on the bar, let it fly completely loose, and also tried big ears and a few front and asymmetrical collapses, by the way, very easy to control and reopen.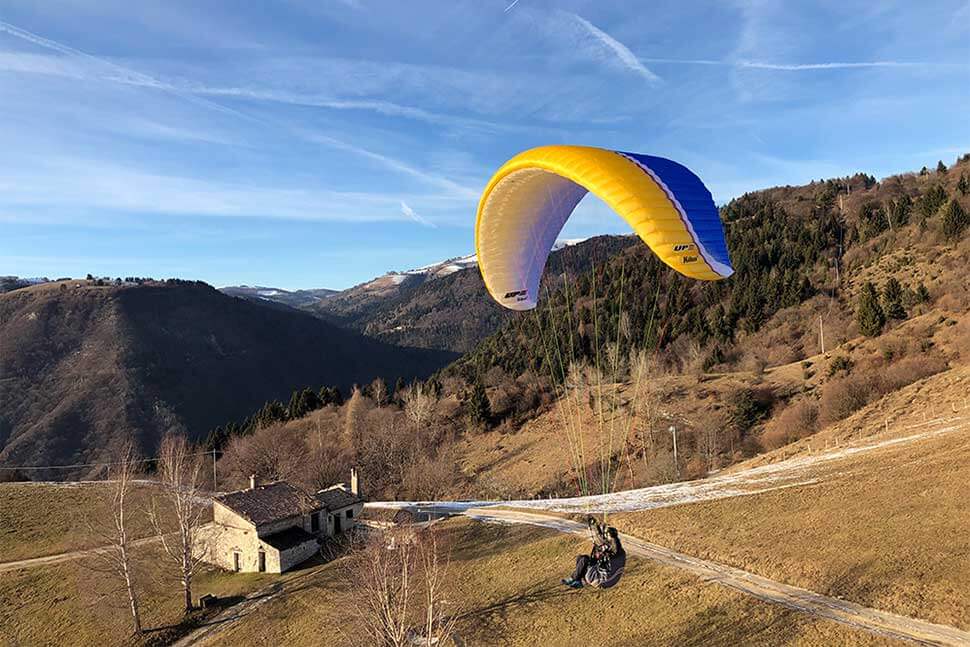 At one point I realized that the cycle was turning off and decided to move. I made a bad decision and in a blink of an eye, I found myself quite low, facing a strong breeze of aspiration over the highway, with power lines near below. But I did not get discouraged. I put myself in "maximum concentration" mode, took a wrap on the brakes of the Kibo 2, and then got as close as possible to a ridge and stayed soaring over a house on the top of the hill for about twenty minutes. In that time some bubbles came up and, finally, one of them took me up about 200m. Then I opened to explore and found the birth of a thermal. I took it really low, less than 70m over the ground, I was almost taking my feet out of the harness…
It was a weak lift at first, then increasing in power to become a +4 with which I finally reached 1200m. More than enough altitude to go to land on the beach.
Attention with the tips
Exploring the brake limits, when you reach the stall point with about 50 cm of travel, the tips begin to drop first. It is not alarming as this configuration comes gradually and the pilot can feel it. In any case, new pilots should explore the limits of their paraglider with caution.
Performance and speeds
Trim speed is 39 km/h. We find the best glide ratio at this speed, but as soon as we have some face breeze it is advisable to step on the speed bar a little. A comfortable, smooth, and effective pedal. Top speed is 53-54 Km/h, slightly higher than its predecessor, in line with mid-B wings, but offering better glide.
Noteworthy is its sink rate, good at trim speed and very good at medium and low speed, which makes the Kibo 2 a very efficient paraglider floating and climbing.
A versatile and fun paraglider for recreational flights and pilots of all levels.
Safety
Self-stable, with a lot of pressure and collapse resistance, the Kibo 2 has a comfortable and easy handling, almost within reach of a pilot just out of school! With easy inflation, it is stable and easy to take on level flight, but it turns and glides really well so if you are a pilot with little experience be cautious with turns and avoid over command. You will also have to adapt to the glide on landings; if you come from an EN A wing, the Kibo 2 offers about two more points in glide ratio, and believe me, that is a lot and makes it easy to overpass the landing zone.
For whom
The obvious: A safe, advanced beginner-glider to progress.
The Unexpected: A versatile and fun paraglider for recreational flights and pilots of all levels.
Not so obvious: A convenient model to get started in thermal flight and first XC flights
Materials:
Porcher Skytex 38 Universal, Porcher Skytex 40 Hard / Dominico DOKDO 30 DMF (WR)
Liros DC120 (Dyneema unsheathed), Edelrid 8000U-130/090/070 (Aramid unsheathed)
+Info: www.up-paragliders.com/en/products/paragliders/kibo-2