Founder of the long-standing paragliding school 'Les Passagers du Vent' and one of the pioneers of free flying in France, Pierre Naville (67) lost his life in a paragliding accident during a flight in Australia, where he was chasing long distance flights with other pilots and his wife, the female paragliding world champion and holder of several records, Seiko Fukuoka-Naville.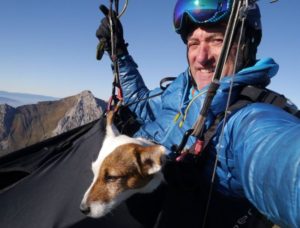 According to the local press, Naville took off from an airfield near the remote New South Wales town of Wilcannia, some 840 kilometres northwest of Sydney, on Saturday 8 in the afternoon, along with seven other paraglider pilots. They all landed on a highway about 160 kilometres further south, except for Naville, prompting emergency services to launch a search.
His body was found in a bushland near the landing site on Sunday afternoon.
Pierre was a passionate pilot and, among other things, did a lot to open and develop the site of Talloires, in Annecy, to become one of the reference flying sites in France. He was a recognized character in the paragliding world both in France and internationally and will be sadly missed. Our condolences go to his wife, family and many friends around the globe.
*Photos: Facebook