This new Flymaster Live DS is surprising at first sight, because it has two screens instead of the usual single one in this kind of instruments. It has been designed this way, in the words of Nuno Gomes, for the pilot to see the different types of information separately.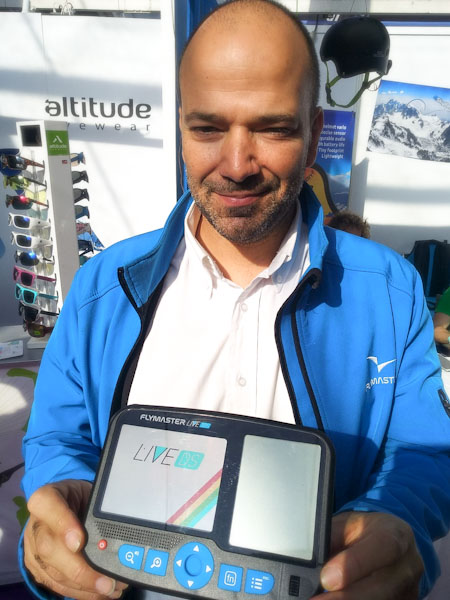 The brand proposes to set the graphics and navigation, thermals, air spaces, etc, on the left screen, in colour, and with reflective technology, which allows high visibility, even with intense sun light. This screen will allow us to highlight important information in our maps using different colours. And, despite being in colour, the battery use is very low in comparison with other screens of the same kind, keeping 20-30 hours of autonomy.
Numerical data (flight time, distances, etc) would then be on the right screen, which remains the same size and has the same characteristics of the screens in the current Flymaster products.
Of course, like in previous models, the final appearance of the screens is customizable thanks to the Designer application, and the pilot can decide where to see each piece of information.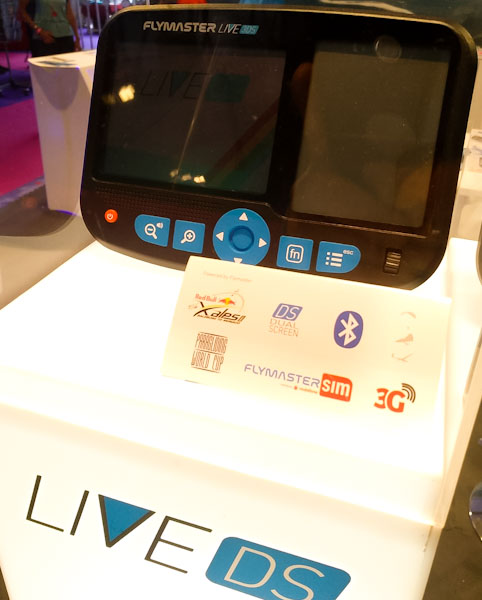 Besides the novelty of its two screens, the Flymaster Live DS features a more powerful processor and a renewed interface, with a group of buttons to move around the screens and settings.
The Flymaster Live DS also has a voice system that will inform us of important data, such as competition information or warnings about restricted airspace
Regarding connectivity, the Live DS has Live Tracking and Bluetooth connection to share information between devices or with the mobile phone.
The SD card that this model incorporates will give you access to world maps, altitudes, etc., even more accurate than the previous models, and it can be used to download all your flight information directly into the computer.
Although this new model Nuno is showing us doesn't have it yet, he has told us that a future version of Live DS will have FLARM, a system that allows pilots to be located by other aircrafts and control towers, mainly to avoid collisions, and which will probably be compulsory in Central Europe in the future. The Flymaster Live DS will be available for around one thousand Euros (plus taxes).
The brand is also working on some improvements for all their catalog, including more complete maps, a higher zoom level and, in general, more information for the pilot.
+Info on https://www.flymaster.net/