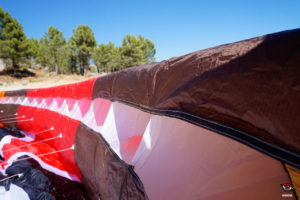 We did some test flights with the U-turn Passenger 2 paraglider, a very sporty and efficient tandem wing of the famed manufacturer specialised in acro and freestyle. After a thorough inspection on the ground, we took to the skies taking advantage of the soft and elusive thermals of this unusual fall in Pedro Bernardo (Spain).
We got many and good sensations. This glider dazzles with its finishes but, above all, when you fly it. It has the touch and taste of an advanced EN B. The handling is brilliant, with very precise steering, fast and dynamic. This is one of the few tandem gliders we have seen using mini-ribs on the trailing edge to achieve a clean brake line, in addition to a live and balanced piloting. You can sense the acro pedigree.
The Passenger 2 is very well constructed, with short and very robust risers equipped with an effective trimmer system.
We will post our complete review on Ojovolador.com soon.