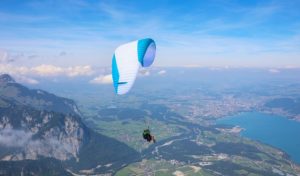 The sixth generation of the tandem glider "for professionals" is now available, offering simple handling, "outstanding takeoff and landing qualities" and precise handling. The BiBeta 6 was developed in collaboration with tandem pilots from the Interlaken region (Switzerland), one of the busiest sites of professional tandem flights in the world.
With aspect ratio of 5.45, 53 cells and EN B certification, the BiBeta 6 is a completely new design of 3-lines that features reinforced sliced diagonals, crossing rods in the leading edge, broad-gauge lines and strengthened support points for "a specially long life", according to the Swiss manufacturer. Despite its complex construction, the glider has a moderate weight of 6,95kg for size 41. The glider has risers with trimmers that can increase top speed in about 6km/h, split As to pull big ears easily and a jam cleat to keep them in.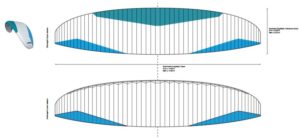 At Advance highlight the easy inflation of the BiBeta 6, its direct and precise response "to the smallest brake input", the comfortable brake loading and its "perfect" flare behaviour.
The BiBeta 6 comes in two sizes, 38 and 41, for weight ranges of 100-180 and 120-225 kg.
+Info: www.advance.ch/bibeta