The Paragliding World Cup tour 2016 had its 5th and last round -before the Superfinal-, at St Leu, La Reunion, where Küffer (SWI, Gin Boomerang 10) took the 1st place ahead of 18-year old Simon Pellisier (FRA, Ozone Enzo 2) 2nd and Andre Rainsford (ZAF, Gin Boomerang 10) 3rd. Klaudia (Ozone Enzo 2) was the 1st woman.
https://vimeo.com/185731809
The warm island of La Reunion offered good conditions during the first week of October, that allowed the 82 competitors to race five tasks ranging from 69 to 34 km. The last task was decisive for the podium, with Pellisier winning his first task in his first ever PWC competition! This allowed him to claim second place only 14 points behind Küffer, who climbed up from 3rd place on the last task.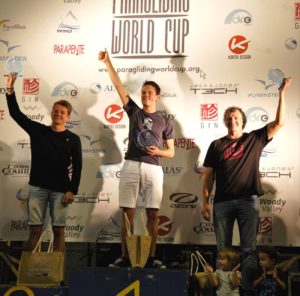 On 17th place overall, Klaudia Bulgakow was the 1st woman, ahead of Méryl Delferriere (FR, Gin Boomerang 10) 2nd and Benedicte-Saury-Jourdain (FR, Ozone Mantra 6) 3rd.
The winning team was Gin Gliders.
The last event of the 2016 season will take place in Governador Valadares, Brazil, on January 17 to 28, 2017.
+ Info: http://www.pwca.org