One of our favorite tandem wings for flying under power, the Bulldog is one of the most popular wings in the range of the French manufacturer with over 1000 units sold all over the world. Now, ITV decided to introduce a large size, the Bulldog 40 (actual size of 39.5m2), covering a weight range of 200 to 450 kg, especially suitable for heavy paratrikes. The size 38 has a weight range of 100 to 360kg.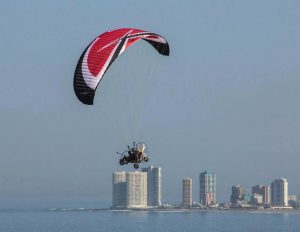 We have flown the original Bulldog extensively since its release, and we can say it is a very interesting choice for paratrike and paramotor pilots, thanks to its easy launch behaviour with short take off run, and nice, direct handling that can deliver lots of fun to the pilot. It is a robust wing, well-constructed and reinforced, featuring uncomplicated short risers and easy to use trimmer system.
In the air, it is stable and lets you cruise effortlessly with low gas consumption. Suitable also for foot-launched and free flight tandems, the Bulldog remains as a good all-rounder for professional pilots.
On this video you can see the Bulldog 38 flying with paratrike.
+Info: www.itv-parapentes.com