A World of Colour is a display of an amazing selection of the stars and starlets of paragliding while they battle for a place on the podium of the highest-level paragliding competition series, the Paragliding World Cup (PWC). The video was shot in September 2017 at Pico Do Gaviao, Brazil, where 7 tasks were flown in 7 days and Brazilian pilots swept off the first places.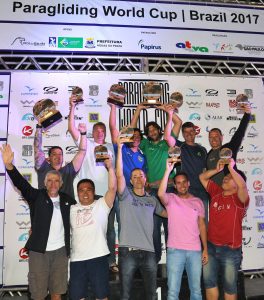 The victory was for Paragliding World Record holder and Brazilian champion Rafael Saladini, followed closely by Erico Olicera 2nd -both on Ozone Enzo 3-, with another world recordman on 3rd place, Frank Brown on a Gin Boomerang 11.
The Women's Podium was taken by Italy's Silvia Buzzi Ferraris (Enzo 3) 1st, Merve Arslan (TUR, Ozone Zeno) 2nd, and Brazil's Marcella Uchoa (Zeno) 3rd.
Brazil was the winning Nation, France was 2nd, and Argentina was 3rd
By Teams, the podium was taken by Kortel Design Team 1st, Gin Gliders Team 2nd, and Alas Del Hombre Team 3rd.
+Info & results: http://pwca.org/