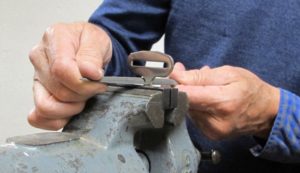 After having informed 43 paraglider harness manufacturers about how to rework their grounded harnesses following the safety notice about Click-Lock and T-Lock buckles, Finsterwalder encourages affected pilots to contact their harness manufacturer to ask for instructions on rework of the buckles to continue using them.
Harnesses with expired service lives (4 years) can temporarily continue to be used when a webbing loop is installed as a provisional backup security, as suggested by Woody Valley and Advance. Owners of affected Charly harnesses can get free rework of their buckles at Finsterwalder in Germany.
"The harness manufacturers are responsible for the authorization and control of the rework service workshops. For reworking, the plug heads are clamped vertically aligned in a vise and filed according to the rework instruction using a half round file", informed Finsterwalder.
Affected harnesses include models by Advance, Aerochute, Aeroman, Aeros, Airbulle, Air Heart, Akyüz, AVA Sport, APCO, Carona, Ellipse, Easy Fly, Finsterwalder & Charly, Flight Design, Fly Castellucio, Fresh Breeze, Gin, Independence-Skyman-Flymarket, Ochmann, Onda Enterprises, Sky Paragliders, Fly Products, Karpo Fly, Lookout Mountain, Madreiter, Moyes, Nenerotor, Cwudzinski, PXP, SE-Wing, Sigma, Sitec, Skylotec, SKY Paragliders, SkyTrekking, Supair, Paravis, SOL, Vonblon, Wallend-Air, Wills Wing, Woody Valley, Yamamoto and other manufacturers.
See instructions for reworking the buckles on: http://finsterwalder-charly.de/home/safety-notice-for-click-lock-u-t-lock.html#nachfeilen