The German manufacturer of paragliding and hanggliding equipment Finsterwalder-Charly has published a warning about a problem detected in some of their quick release carabiners Quick-Out.
This is the firm's notice:
Safety Notice Quick-Out Carabiner on April 01, 2019
When setting up the production of the Quick-Out release buttons in January 2015, about 20 release buttons of one side were produced incorrectly. Some of these release buttons were accidentally mounted and at least one such faulty Quick -Out carabiner was put into circulation. The error eliminates one of the 4 security levels: To open the carabiner, it is sufficient to press only the correct release button instead of pressing both release buttons simultaneously.
At the final inspection, every single Quick-Out carabiner undergoes a load test of 2,000 DaN. However, the error was not noticeable, since the stress test is also passed with only one release button intact.
If the Quick-Out is operated in accordance with the current version of our operating instructions, which are available for download on our homepage, the error will be noticed immediately. There it is described that the insert of the Quick-Out must click into place by strongly pressing it down (without pressing the release buttons simultaneously). A faulty release button prevents this.
We urge all Quick-Out users to check the carabiners before the next use.
We have introduced additional testing procedures for the final inspection of the Quick-Out carabiners to reliably prevent such errors in the future.
Link to download the operating instructions: finsterwalder-charly.de/en/downloads.html
The picture on the right shows a Quick-Out carabiner with a faulty mounted release button: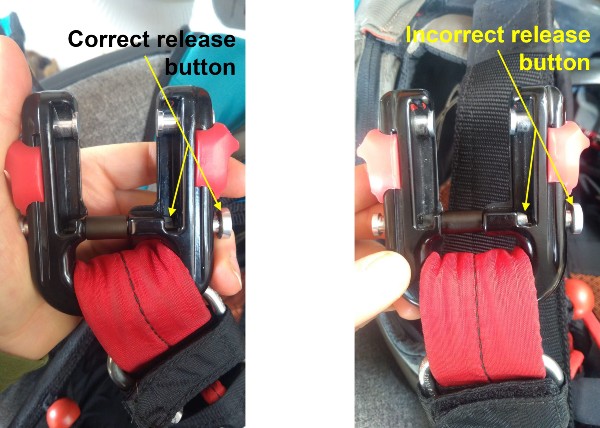 Finsterwalder GmbH
http://finsterwalder-charly.de