The "Flight of the Swan" expedition, led by conservationist Sacha Dench, aims to study and raise awareness about the threats over the Bewick swans, by flying on paramotors their entire migration route next to them: some 7,000km from the arctic back to the UK. The team expects to spend about 10 weeks on this journey, that started by the end of September.
This is one of the many amazing images that the team has been able to take during their flights, and it was taken by Dan Burton. So far, Sacha and her team have also spent some time talking with the local people on the way, and meeting with Russian scientists, students and media.
Since 1995 the number of swans making the migration from arctic Russia to northern Europe has plummeted by nearly a half – from 29,000 to just 18,000.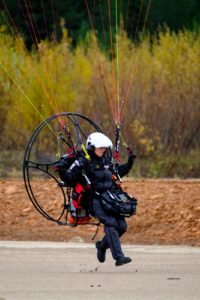 By joining the Bewick's on their migration, Sacha and the expedition team will see for themselves just why swans are unable to survive the journey. They are working closely with the Wildfowl & Wetlands Trust (WWT), a national wildfowl and wetland conservation charity in the United Kingdom.
You can support this cause by signing the petition, donating or buying a t-shirt on: https://www.flightoftheswans.org/support/
+Info: https://www.flightoftheswans.org/ and https://www.facebook.com/flightoftheswans/