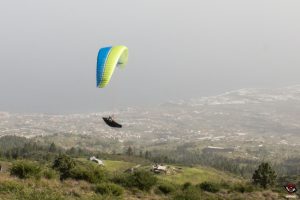 The Summit XC4 represents a renewal of the successful high-EN B series from UP, and comes with interesting improvements in design and construction. This 6.4 aspect-ratio glider (4.8 projected ar) is one of the most impressive EN B wings of the moment, with attributes that make it very attractive for pilots with sportive and XC spirit.
The Summit XC4 is fast, agile, very manageable and offers outstanding glide ratio. And when I say outstanding, I mean even close to that of its big "brother", the Trango XC3, which is to say a lot since the Trango is one of the more lasting and combative EN C gliders. But logically, the Summit XC4 keeps the qualities of its approval and, in general terms, it is more compact, more tranquil, and -of course- easier to fly. The Summit XC4 is a "high" EN B, aimed at confirmed pilots.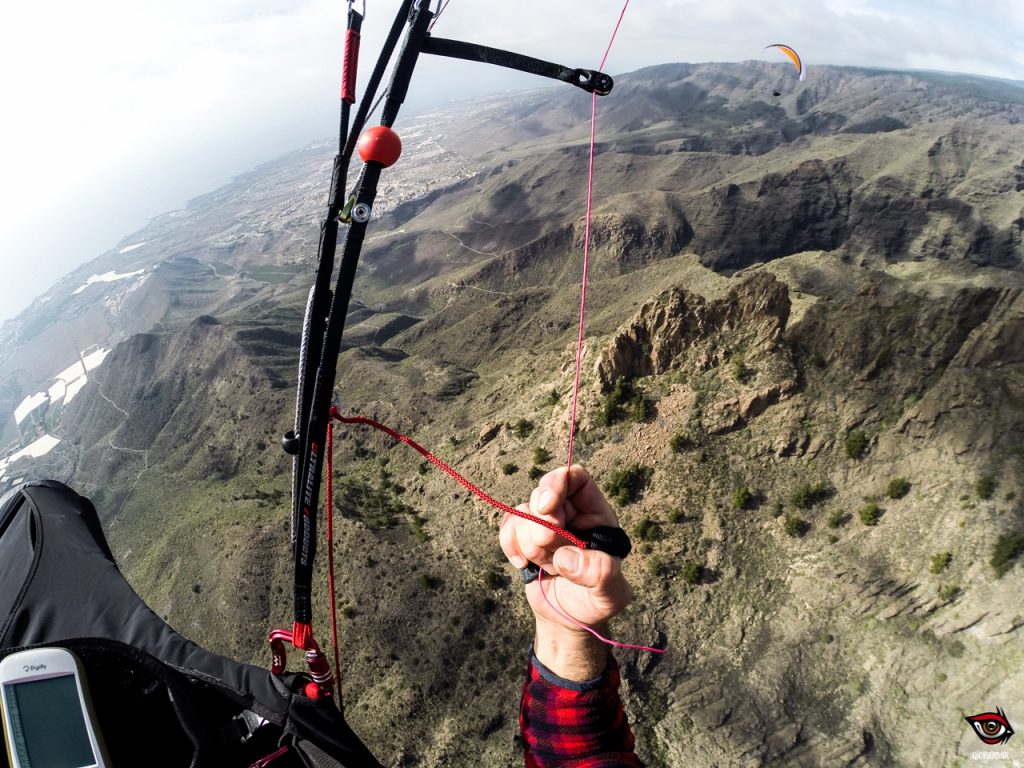 UP left us with a great feeling after the "unboxing" and the first inspection of the wing: the Summit XC4 boasts a careful construction, as well as cutting-edge materials and attractive finishes, with a new generation of UP's shark nose on the leading edge. Its new risers stand out immediately, a 3-line design with longer B riser and an independent line for the wingtip, as well as steering balls on the Cs –2-line style– to use when we are accelerating.
It has an easy inflation, and the possibility to pull big ears.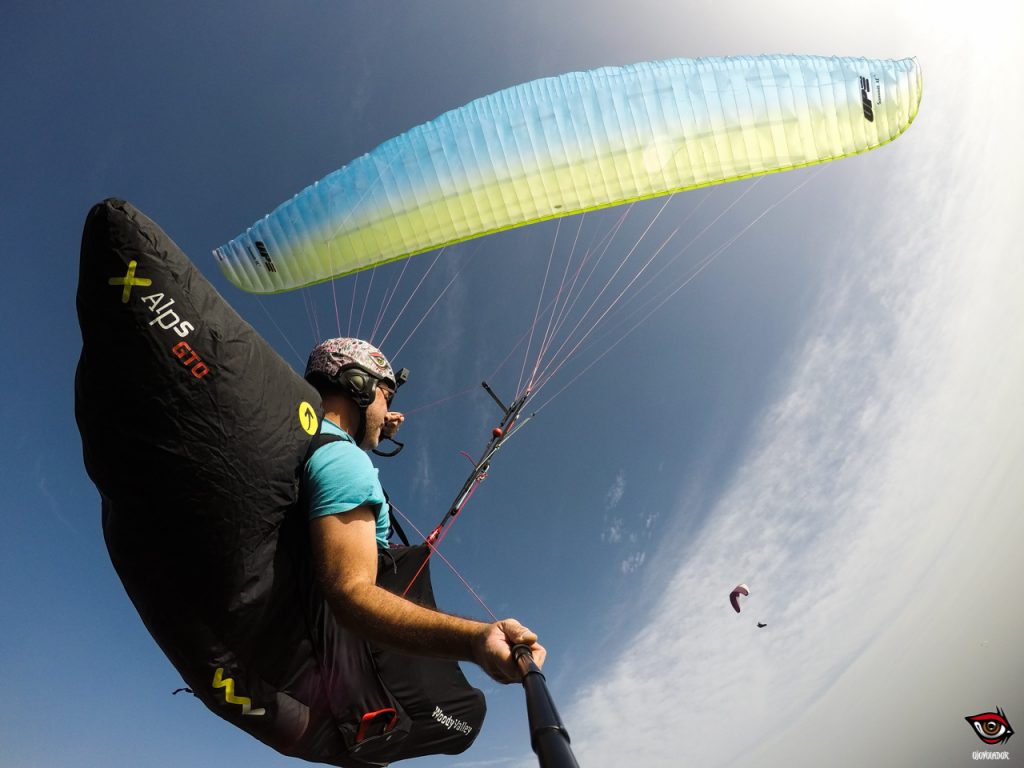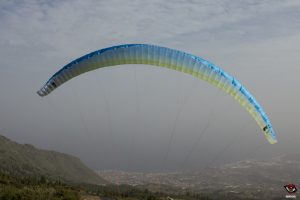 The leading-edge construction with 3D panels allows for a clean and optimized top surface. The "racing" style unsheathed lines are hybrid, of technora and dyneema. The lines are very thin, handled well in practice but we must be careful with twigs at the take-off.
The Summit XC4 has mini ribs for a more precise trailing edge, and pleating on the brake attachments to produce a clean and effective line of brake.
The distinctive laid-back UP wingtips are especially clean and defined offering a set that, from my point of view, looks very attractive.
Let's fly!
Impossible to resist this paraglider, once we had it in our hands we went straight in search of good winds, and did the first flight in the area of Arafo, Tenerife.
In our test flights we had the Summit XC4 size M, with a weight range of 90 – 115 Kg. I have to say that this is not my natural size and to be able to squeeze into her "shoes" at 115 Kg, I had to get rid of all the extra weight: flying in t-shirt, shorts, and even emptying all pockets. ?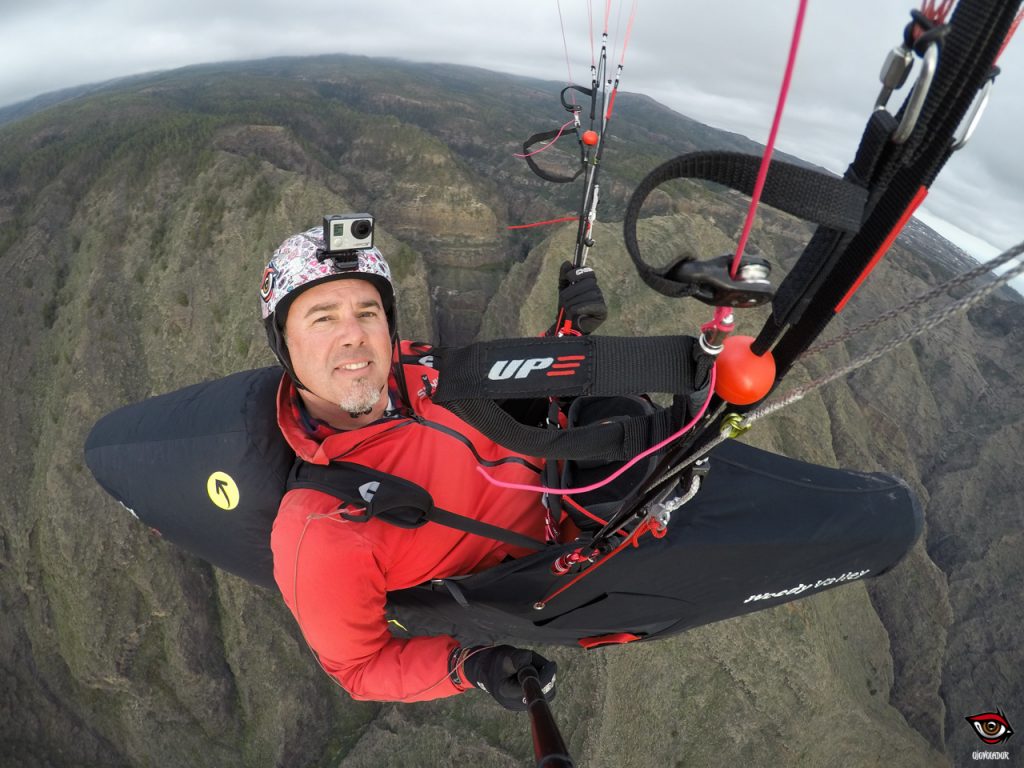 Inflation
The Summit XC4 offers very light inflation and rises as a block, gaining pressure immediately. In nil wind conditions it will allow you to launch from the most unexpected places with ease; its thin lines will force you to prepare the glider well to prevent tangles though.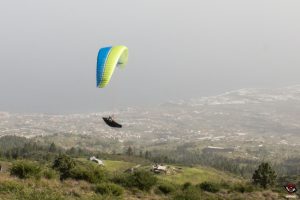 With wind of 10 – 15 Km/h we will have to be careful and pull the risers gently, since the XC4 comes up with energy and sometimes it will be best to anticipate to it. However, we can say that this glider's inflation is appropriate for the EN B category.
When the wing is overhead we realise that this is not a regular EN B paraglider, the Summit XC4 conveys power and offers great lift. One step, two steps, and we are in the air with the feeling that the wing is pulling up and forward, almost like pressing the throttle on paramotor.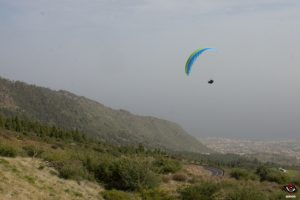 Despite its high speed, the Summit XC4 performs very well when it comes to climb, yet with a faster, more active and sportive handling, taking advantage of any surge and change of speed. With this wing load the XC4 is almost a racing wing, a configuration that is interesting for flying at full speed and munching kms, probably embarrassing all sorts of superior gliders… But I must admit that with a load of 5 to 10 Kg lower it would perform better, and would be easier to fly – so more suitable for most progression pilots that this paraglider is aimed at.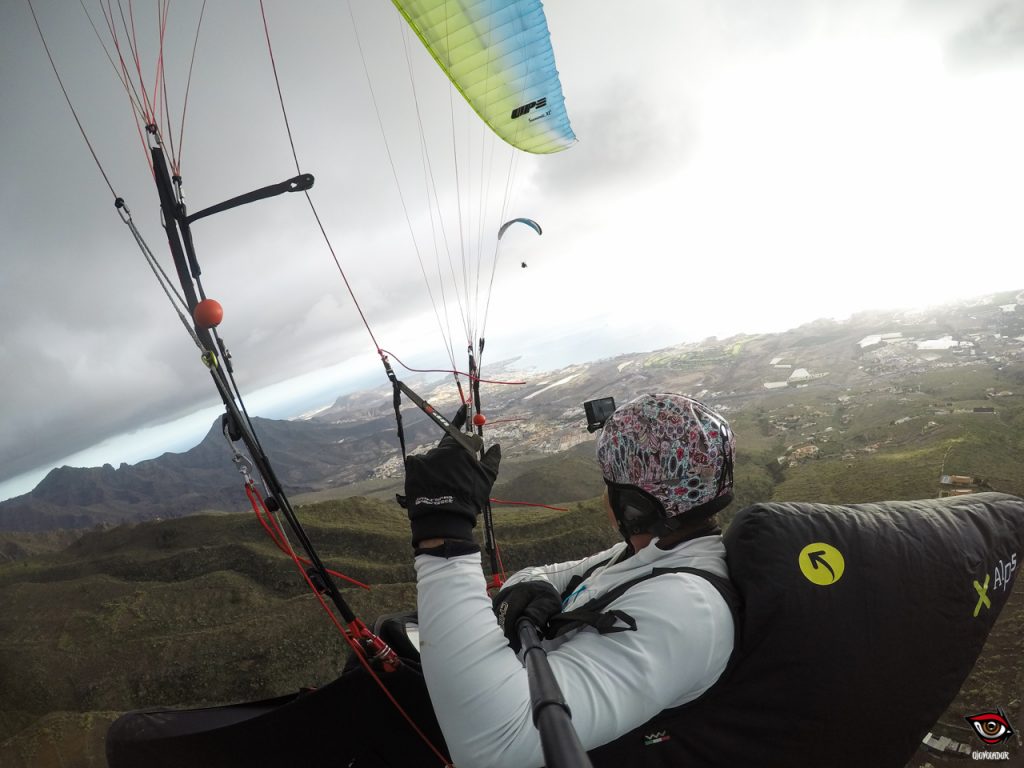 Turn
As I said, flying the Summit XC4 well loaded conditioned the type of flight I did. I found a very dynamic and reactive paraglider that responds wonderfully to shifts in weight and inputs on the brakes. It draws fluid paths and, as I mentioned before, you can play well with changes in speed and surges. This glider carves in any core responding to my commands in an immediate and effective way. I highly enjoyed this turn, but it meant some additional physical effort. I think it is best to fly the Summit XC4 less loaded, as it will climb better and will also be a bit slower and easier to fly.
The brake is short; with 20 cm of travel you will access the range of useful handling. Usually, about 10-15 cm and some weight-shift will be enough to get the best of the Summit XC4.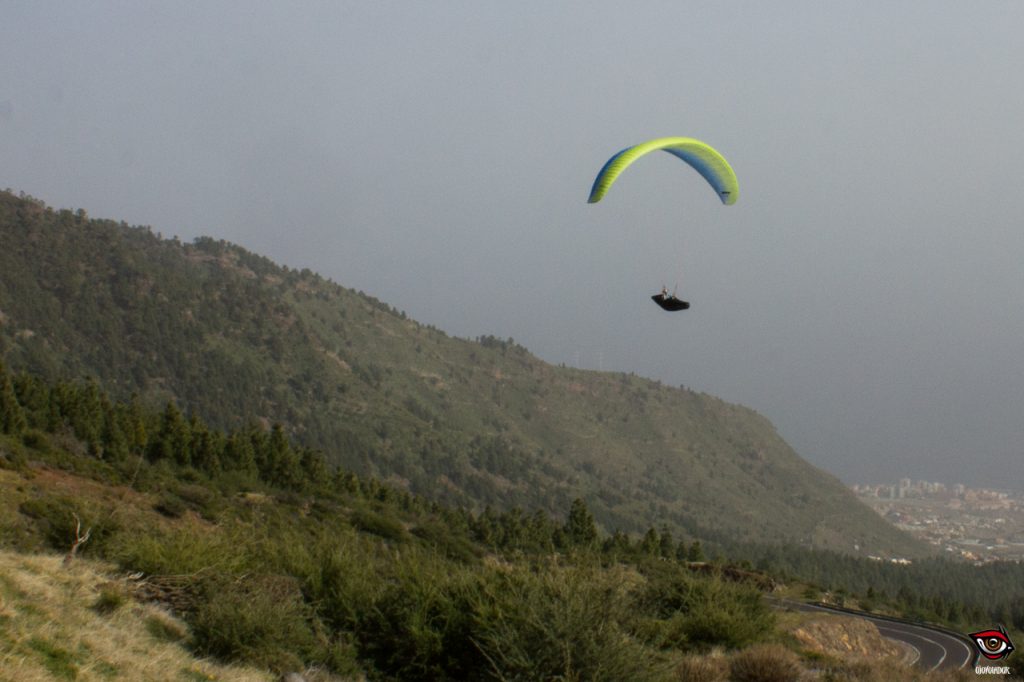 Sailing
Hands up, the Summit XC4 keeps a speed of 39-40 km/h with surprising glide, but the best comes when we start to push the bar. With the first length, we manage up to 45-46 Km/h and in this area we find the best glide ratio. An absolutely delicious and effective glide, worthy of a top class Sport paraglider, which cuts in the wind with ease. The rest of the speed bar is good for advancing in face wind or when you want to leave other gliders behind 😉 The top speed is around 53 km/h and it keeps a good sink rate so you don't really need to be measured. As soon as we have to go into wind, we better step on the speed bar to the top.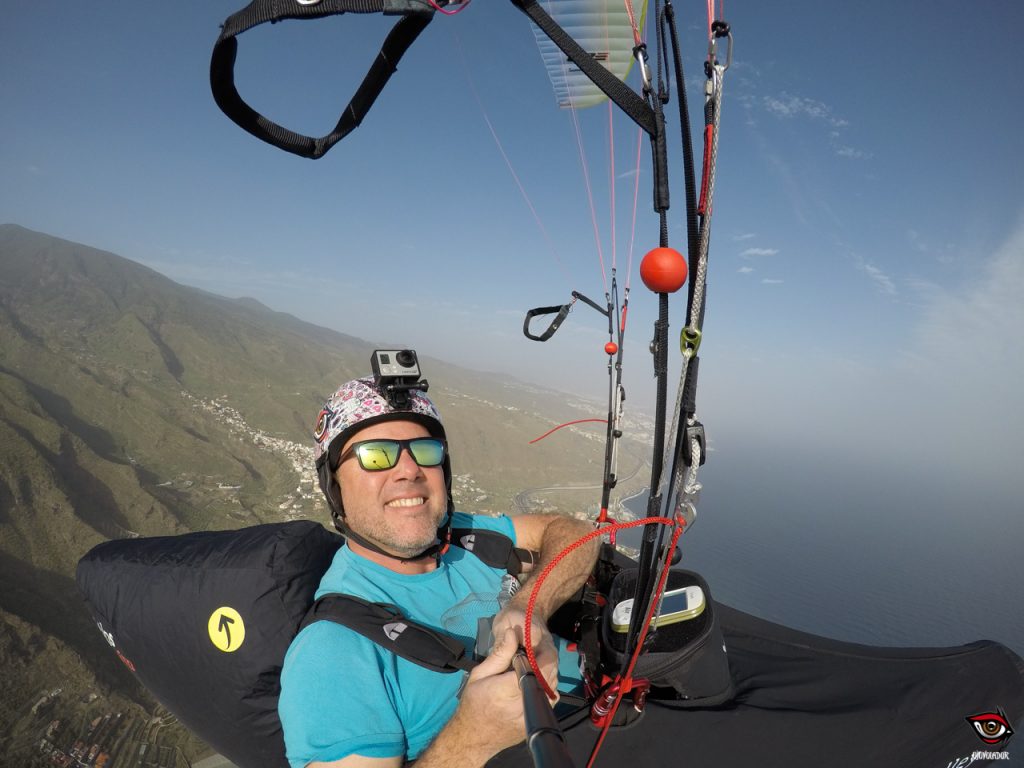 Steering with the rear risers
An interesting new feature added both to the Trango X-Race (EN C) and the Summit XC4, is the steering balls that let you control the incidence of the glider when flying accelerated.
This system of handling with the rear risers works by pulling the ball down. Although it is effective and useful, it is a little hard and requires the pilot to hold and pull it firmly. On a long flight with many transitions, flying at full speed through the usual turbulence on a cross country day, we might get tired. Personally, I adjust the wing incidence using both the balls and the speed bar. This way the physical effort is better distributed.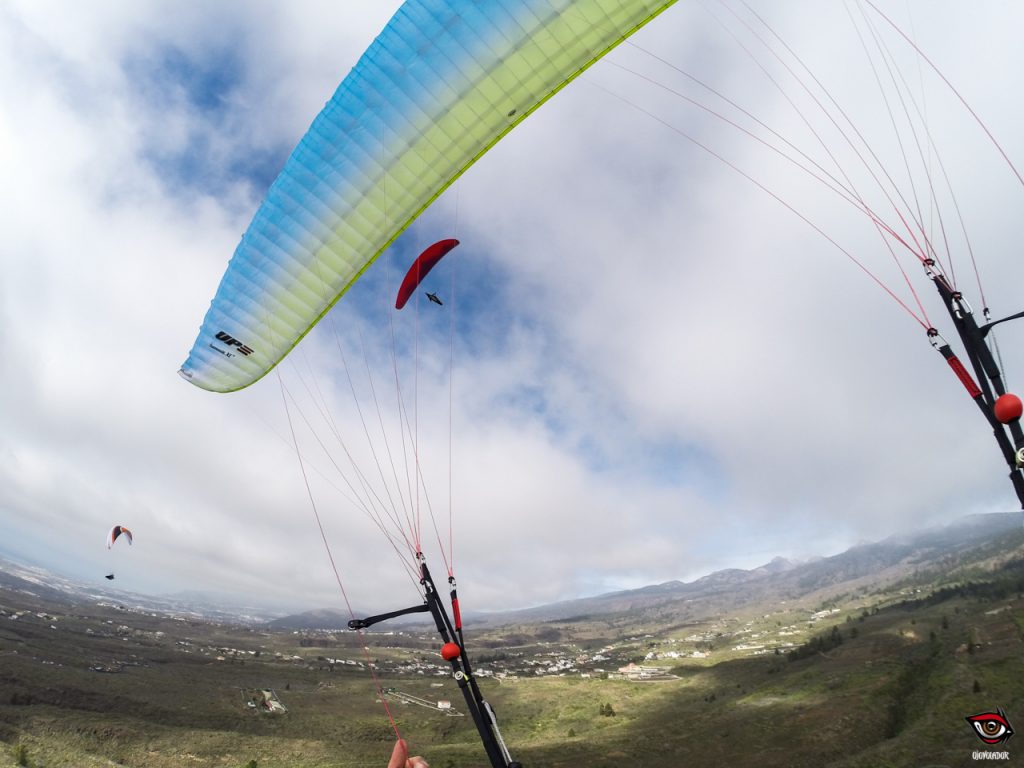 Performance
Yes, a lot. To me, this Summit conveyed sensations close to the Trango XC3 in terms of performance. Like that EN C class paraglider, the Summit XC4 offers a wing set with great definition, similar plan form, line layout, risers… All top level.
The new Summit offers very attractive performance, in addition to agility, ease to climb and great glide ratio of about 10 points.
Finally, the Summit XC4 is more consistent than the Trango and moves in a block due to its lower aspect ratio.
The Summit XC4 is, arguably, one of the sport EN B gliders with highest performance for the 2017 season.
Its sportive style of flying and handling are also attractive for the most demanding pilots of the category who want to develop performance flights, compete in this class, or who simply want to have the best features to fly the highest and the fastest.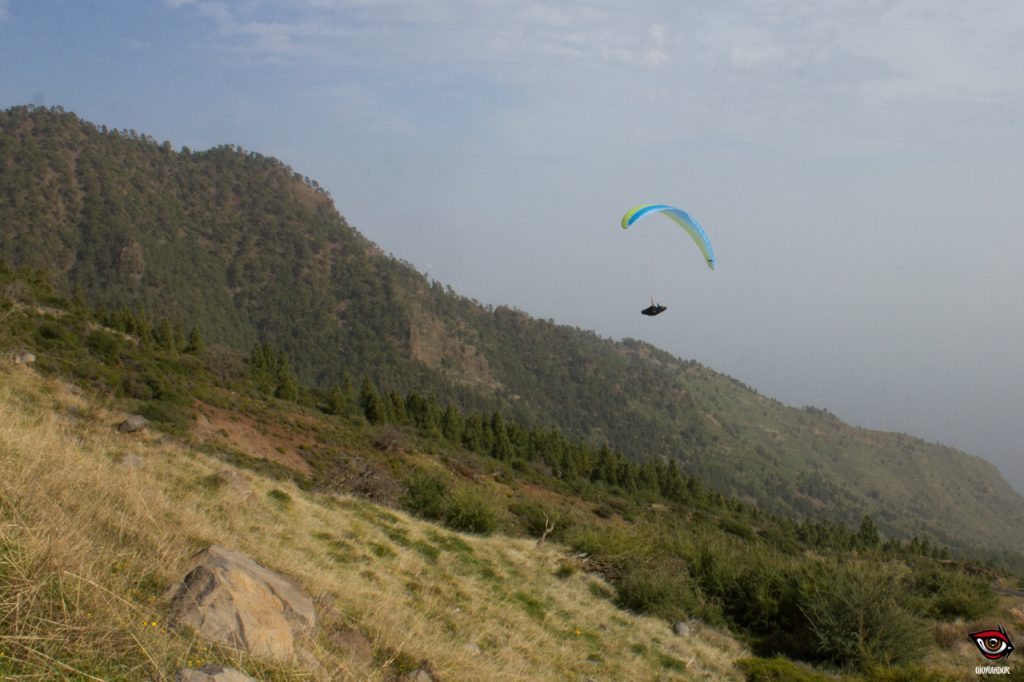 For whom
This is certainly not a paraglider to progress coming from an EN A; it is a solid and consistent wing but calls for hours of flight and sensible piloting – because it's fast and responds very well.  During my test flights, it never gave me a scare, but it talks!
The Summit XC4 is a perfect wing for pilots progressing in the EN B class who look for a glider between an easy C and a high B.
Technical data UP Summit XC4:
| | | | | |
| --- | --- | --- | --- | --- |
| Size | S | S/M | M | L |
| Flat area (m2) | 21,1 | 23,5 | 25,5 | 27 |
| Projected area (m2) | 17,9 | 19,9 | 21,6 | 22,9 |
| Flat span (m) | 11,5 | 12,2 | 12,7 | 13,1 |
| Projected span (m) | 9,3 | 9,7 | 10,1 | 10,5 |
| Flat aspect ratio | 6,3 | 6,3 | 6,3 | 6,3 |
| Projected aspect ratio | 4,8 | 4,8 | 4,8 | 4,8 |
| Cells | 57 | 57 | 57 | 57 |
| Total line length incl. brake (m) | 223 | 233 | 241 | 249 |
| Total # of lines incl. brake | 196 | 196 | 196 | 196 |
| Glider weight | 5,1 | 5,3 | 5,6 | 5,9 |
| EN class | C | B | B | B |
| Take-off weight (kg) | 65-85* | 75-100 | 90-115 | 100-130 |
* EN/LTF C
+ Info: www.up-paragliders.com