Gin's new intermediate paramotoring wing Vantage 3 is the brand's latest intermediate lightweight development for paramotor pilots. The wing counts with the EN B (65-115 kg) and DGAC (85-150kg) certifications. The Vantage 3 weighs 4.4, 4.6, 4.8 and 5.0 kg for sizes 22, 24, 26 and 28, respectively. With an aspect ratio of 5.5 points and 47 cells, the glider was designed from the ground up as a lightweight paramotor wing, explains the manufacturer.
In terms of construction, hard-wear traditional fabric was used in the wear-sensitive sections of the canopy and lighter fabric in the less critical areas. Further details include: 2nd generation Equalized Pressure Technology (EPT), 3 line risers – 2 lines spanwise, easy Big Ears system, extended weight range (24, 26 and 28 sizes) for flying at higher wing loadings, a combination of unsheathed and sheathed aramid and Dyneema lines and lightweight mini-ribs on the trailing edge.
"Our target with Matt Minyard was to bring the advantages of lightweight paragliding wings to beginner and intermediate paramotor pilots, especially pilots looking to practice paragliding and paramotoring with the same wing.
We felt it was important to make a wing with easy inflation and take-off. This helps a lot for light trike use and the lighter canopy is also ideal for bivouac flying.
We also worked a lot to achieve the right mix of security and agile, fun handling. The shorter risers help a lot with this and speed increases are easy to manage. The speed increase is provided by both the trimmers (40%) and the speed bar (60%) and you can use the full brake range in all flight configurations (trim, open trimmers, accelerated). We also significantly reduced the torque effect compared to the Vantage 2″, explains pilot Lauren Salinas.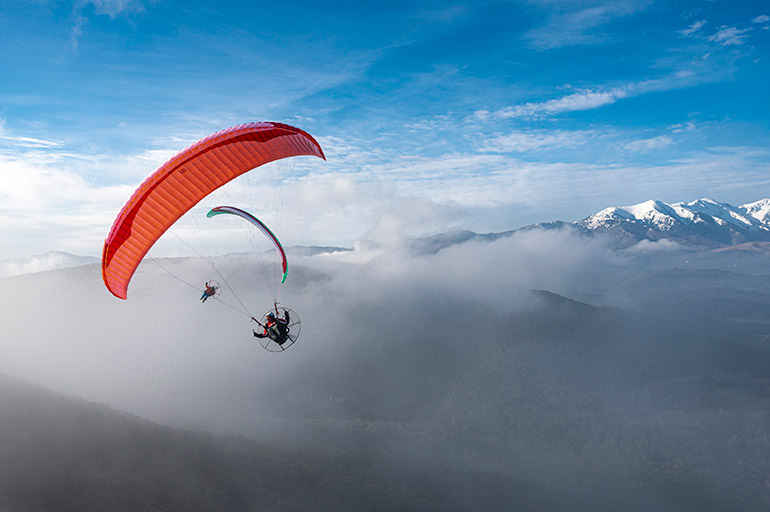 The Vantage 3 comes in 2 colors, orange and green. 
More info at https://www.gingliders.com/en/paramotoring/vantage-3