"Under a tree, at rest". That's how the family of James Oroc Johnston, better known as 'Kiwi' for his origin, communicated the location of the missing pilot on September, Friday 18th , 2020. Kiwi, who had taken off for a cross country flight on August 22nd never returned. His friends rapidly issued the alarm initiating the search starting from the last point registered by his personal GPS locator. The efforts, nevertheless, were fruitless and the official search was suspended after a week. Then, his closest friends promoted a GoFundMe campaign to finance a private search and rescue operation by land and air, which collected nearly one hundred thousand dollars and included the participation of friends from around the world via the revision of satellite images of the area in the attempt to spot his paraglider.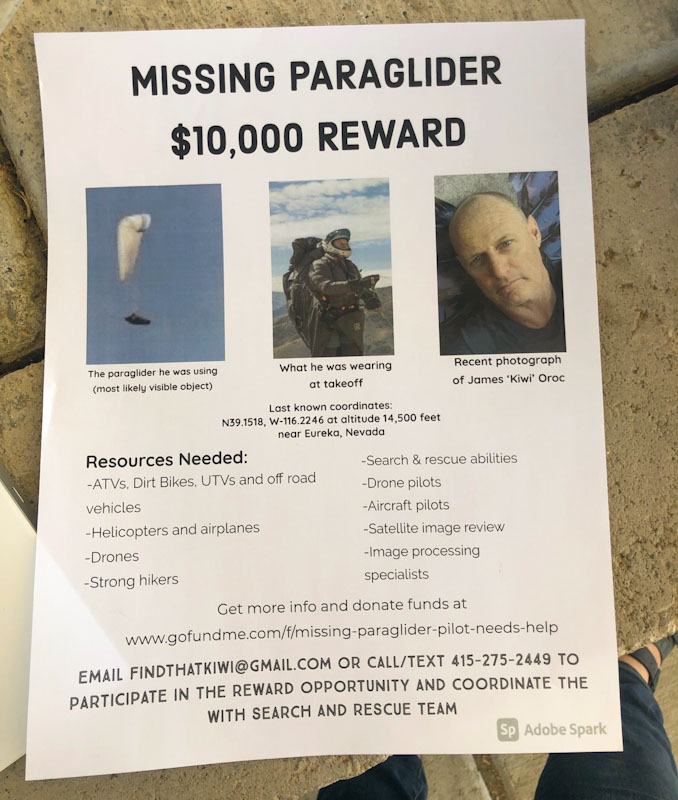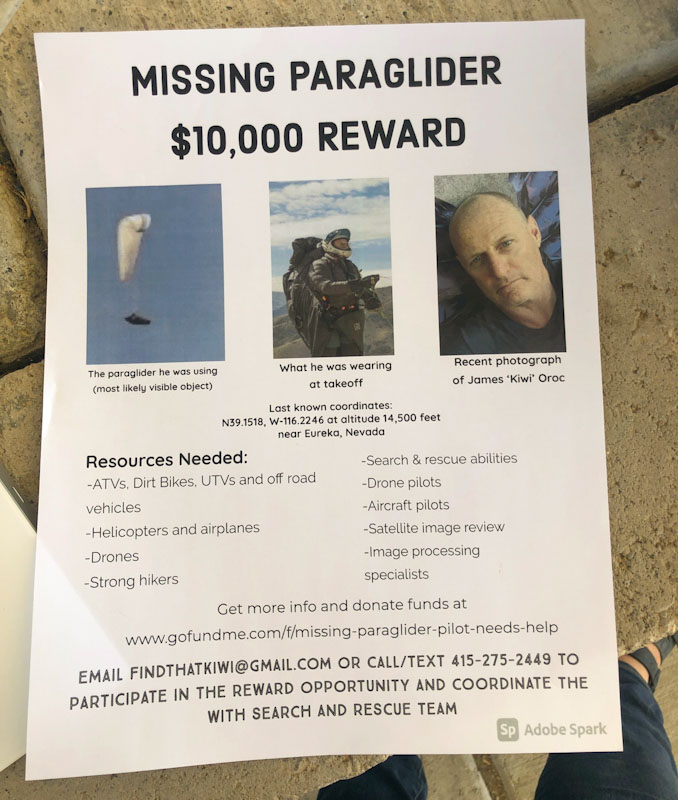 After 4 weeks without news, on Thursday 17th the finding of his paraglider was announced in a remote area, about 16 km from the point where the pilot went missing, without risers or signs of the harness. From then on, the local search was accelerated and concluded Friday with the worst possible outcome.
"It is with great relief and deep sadness that we share we have found James, resting in peace under a tree. In this moment, these are the only details we have on the particular circumstances that led James to his premature decease while flying in Nevada. A veteran pilot part of the world paragliding community for 30 years, Kiwi connected with an amazing network of pilots who gathered from all over the world to find him. We will never be able to thank them enough", expressed Amanda Jane, member of the search team at the GoFundMe page dedicated to his search.
According to the investigators, the pilot died «on the spot» impacting on the ground after falling at great speed, surely provoked by a violent incidence in flight. He never managed to reach the emergency parachute.
On the Facebook page opened for the search operation, further details will be given regarding the last farewell to James "Kiwi" Johnston: https://www.facebook.com/FindThatKiwi