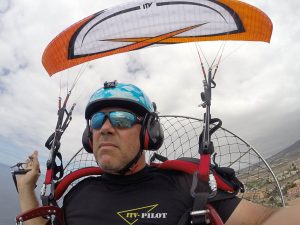 We did some nice flights with the Jedi 2, an EN B glider with aspect ratio of 5.7 points, made by the French manufacturer ITV, which we already had the opportunity to try some time ago (Review ITV Jedi 2 paraglider). But this time we tried the paramotor version with special risers for motorized flight. The Jedi 2 is a wing with versatile personality, good handling, and great features for playful flights and also for thermal and distance flying, as it offers good turning behaviour and notable performance to climb in thermals and glide away. 
ITV is a French company with a long history in free flight, which in recent times has shown great strength and notoriety in the Paramotor world as well, so it's not surprise that a free flying glider like this keeps favourable qualities to fly under power.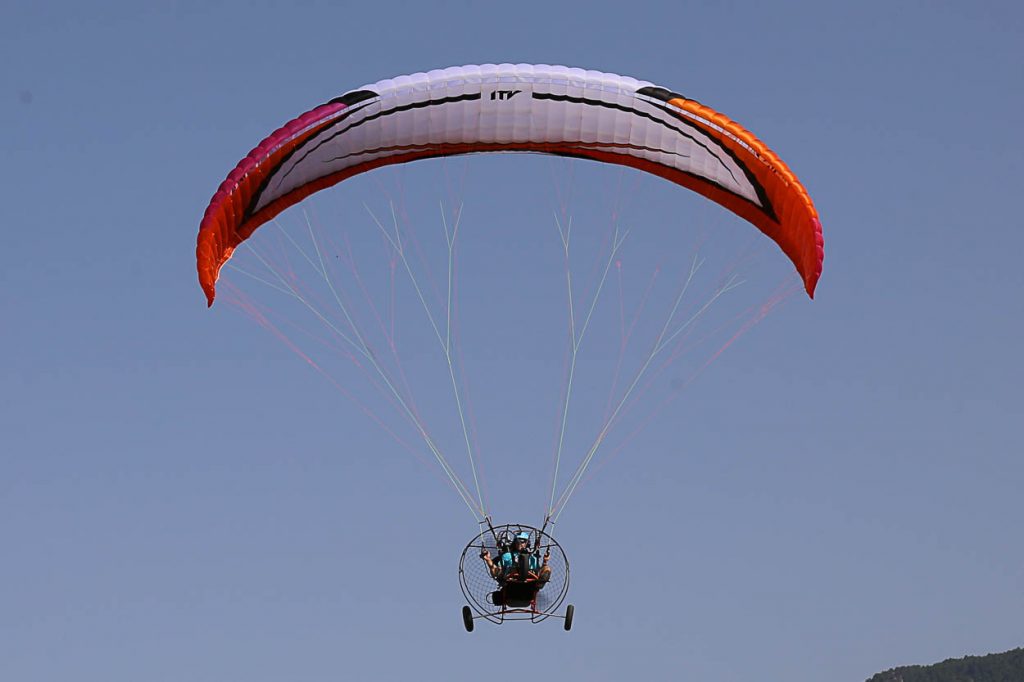 Specifically, we did four flights with this "Sangria" colour Jedi 2 with paramotor risers. All nice and fun. 
Inflation is harmonious; the glider inflates evenly, gains pressure and immediately rises above the head without any tendency to overshoot. The takeoff race is short and lift comes at a low speed, so it is an easy glider even for motor newbies. 
Positive and negative trimmer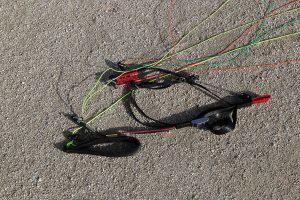 The trimmers, which are the main novelty, are simple, well finished and very strong, offering a reassuring feeling that they will never break. ITV's brake handles are large and padded, as well as comfortable to hold even when you have the motor throttle in your hand. 
With these risers we can slow down or accelerate the Jedi 2. This feature is useful as sometimes we want to stroll at a touch of gas, at minimum speed, which we can easily do taking advantage of the closed trimmers. 
At other times it is good to open the trimmers a little for the take-off, for example, in zero wind conditions.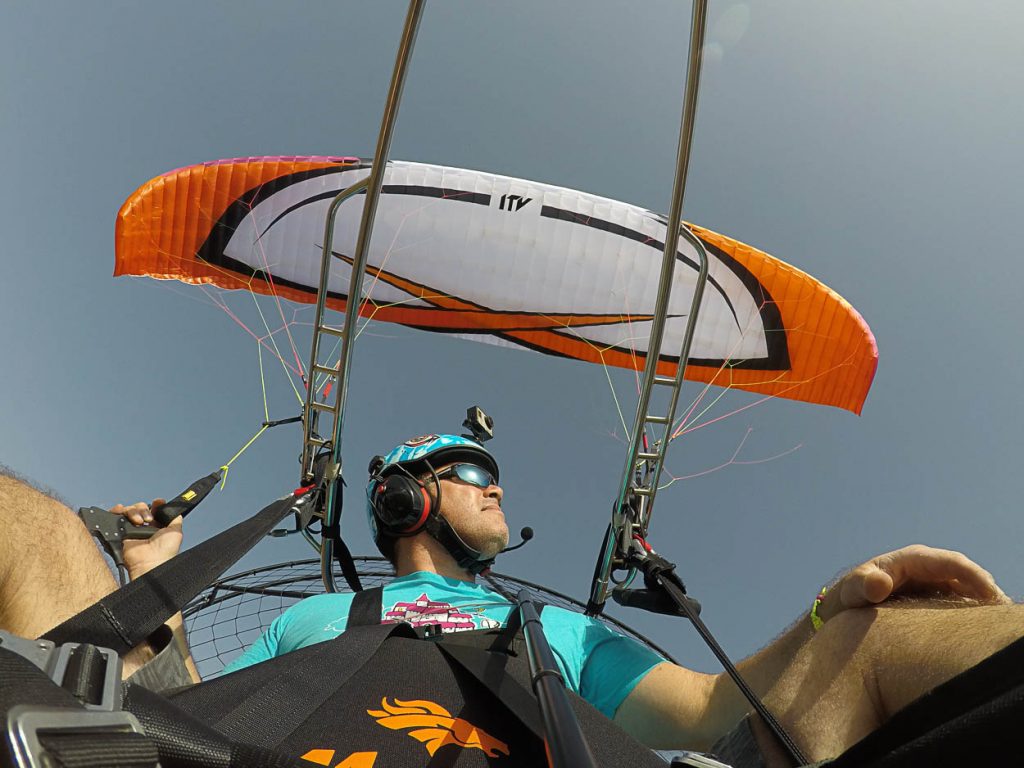 Navigation, torque and speeds
The trimmers allow you to optimally adjust the angle of attack of the Jedi 2 to navigate. In general, it is advisable to always release a couple of centimetres for the glider to gain penetration. Also, you can adjust the trimmers to compensate for the torque effect. This system is the simplest of all, you don't have alternative controls so it is a glider easy to understand and control. The most novice in the Paramotor world will feel comfortable right away.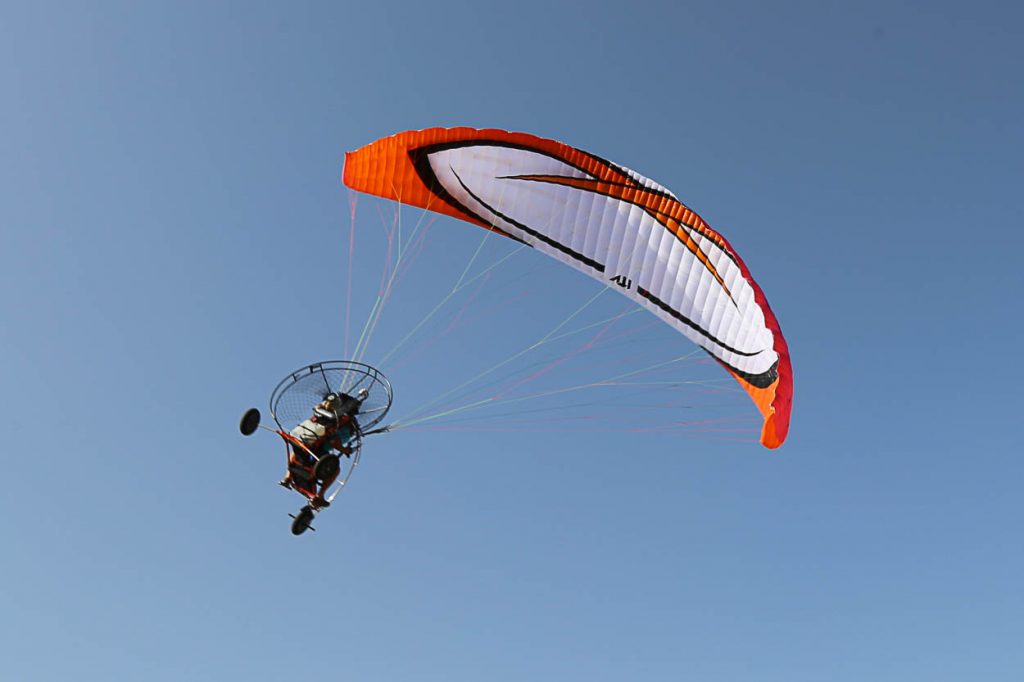 At the time of navigating, if we fully open the trimmers we can go from 40-41 to about 48 kilometres per hour. Then we have the speed bar, which we had already tried in the free flight version and, in this case, it allows you to add about 7 km/h. So, by using trimmers and speed bar we can reach a speed of about 54-55 km/h with good feeling of performance, glide and speed. 
It is a great paraglider for free and paramotor flight, which offers easy takeoff, good lift to fly at a touch of gas, and it is very easy to understand and handle. The speed range might not be very wide, but it is fully usable and conveys 100% confidence.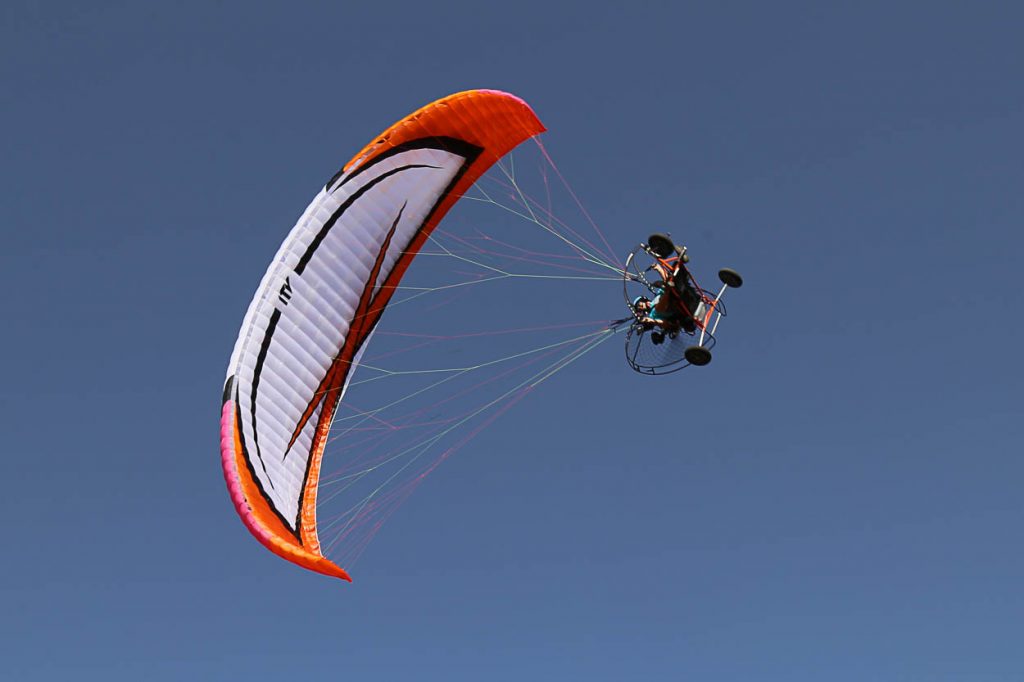 We must point out that although it is an accessible EN B wing, the Jedi 2 has a freestyle spirit. 
For this review I flew with two different power gears. On one hand, I used the new Airfer "Drone" paramotor equipped with Corsair Black Devil Light engine of 172cc with a 130cm Helix propeller. Then, I also flew with the Airfer Mustang Mini, a solo-tandem paratrike, loading a total of almost 190 kg in flight. The Polini Thor 250 with a 150cm propeller worked totally at ease. 
+Info: https://www.itv-wings.com/fr/