A dream come true for the 5-times acro world champion and adventurer, who travelled to Denmark to fly in the Black Sun – a natural event that happens every autumn when more than 1 million starlings migrate south for the winter, and as they move in formations resembling a dance they seem to darken the sunset. The locals call it 'Sorta Sol'.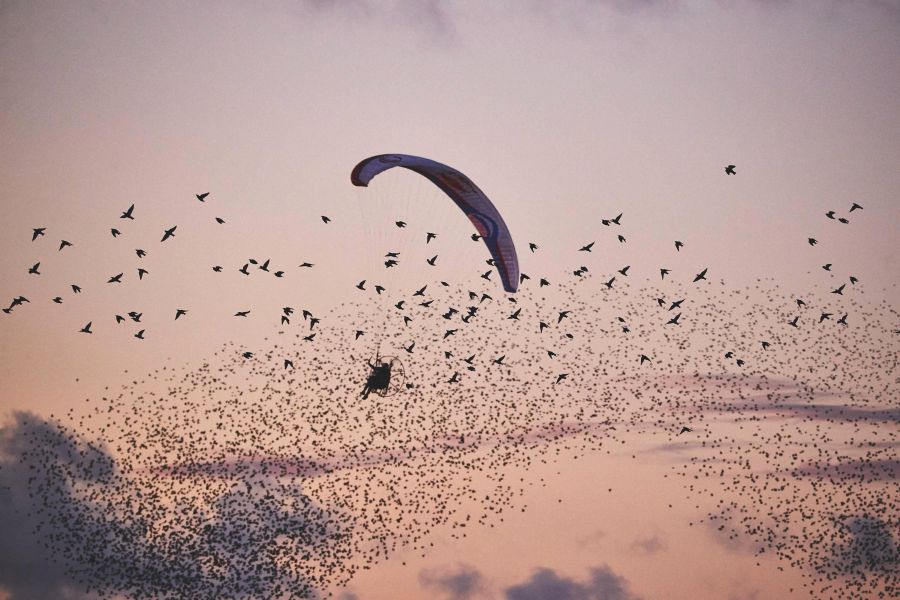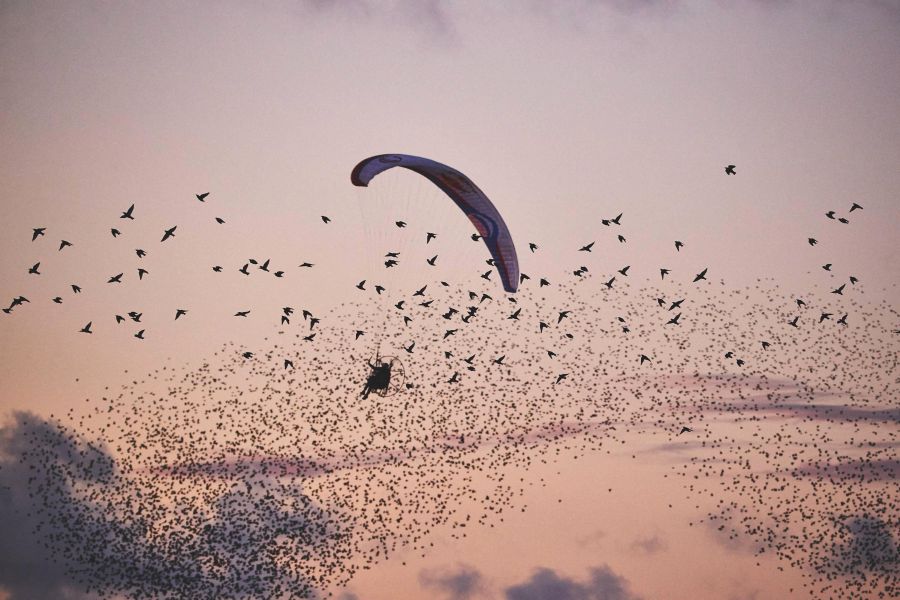 Horacio was an unexpected guess at this year's Black Sun, when he approached the flock on his paraglider powered by an electric paramotor. The first time, he had the engine off while he glided near the birds, but they moved away. Then the starlings started to approach as they realized the glider was just a big bird and not a predator; or that's what Horacio believes.
The second time I flew with them they stayed in the area, making groups and flying around me. I think they recognized that I was not a predator and that I was not attacking them. And I flew in a soft, gentle manner without sudden movements, very stable and nothing aggressive. So, the experience was really beautiful.
The adventure lacked any improvisation. To be able to fly in the marshes of Tøndermarsken, a protected area for these birds, Horacio had to get permission from the Ministry of Environment of Denmark, and he worked closely with two well-known ornithologists that work in the area, who were interested in observing how the birds would react to a paraglider joining them in flight.
Ojovolador asked Horacio how he managed not to disturb or hurt the starlings with the paramotor:
"The ornithologists we worked with have filmed the starlings with drones often, so they told us that the birds are very familiar with the drones being near them, that they are not frightened by their presence or the noise, they just avoided them. And no bird has ever been hurt by a drone", Horacio told us. "They gave me the go-ahead after watching my videos and material, and explaining me how to get near the starlings, where to enter the flock".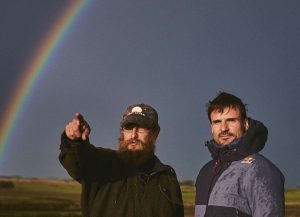 Also, one of Denmark's leading ornithologists, Frands Sorberra, was on hand during the filming to make sure all the necessary precautions to ensure the safety and well-being of the birds were taken.
"I did not encounter any problem with the starlings, even though there were many thousands of birds flying around me. None of them touched my glider, the lines or the motor. No bird was injured for sure!", said the Spanish pilot.
"Usually when you paraglide you can fly close to three or four birds, but being able to fly with thousands of them is just a unique opportunity".
Horacio flew with a Kangook paramotor powered by a Paracell V12.2 electric engine.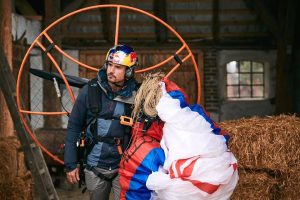 "While it is true that an electric paramotor still makes noise, it is far less noisy than a normal one, especially at idle. At low revs it made little noise and it was not annoying. I saw that, like any bird, the starlings recognized me – as an obstacle or maybe a noisy big bird, but soon they did not evade me", Horacio told us.
"The feeling of flying with this flock of birds is different from anything I've done. I felt as a part of the flock; I felt they were accepting me… it was a dream came true!"
+Info: https://www.redbull.com/int-en/horacio-llorens-black-sun-paragliding
*Follow Horacio on Facebook: https://www.facebook.com/acroracio/