Paragliding offers intense moments; from your first glides you can enjoy the feeling of floating over wonderful landscapes, fly along other pilots, or get to climb up from very low… they are great moments to remember.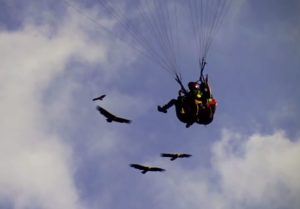 One of the best experiences you can live while flying a paraglider is to share the sky with birds of prey, such as vultures. Birds that are not liked by many people because of their eating habits, but when they fly up they become magnificent nature flyers and can only inspire admiration. In general, large nature gliders like vultures and all their variations in the world, are not afraid of paragliders in the air and take advantage of air currents just like we paragliders do, and if they see us climbing they will even come to share our thermal. So it is relatively easy to meet them in the sky.
There are flying areas where it is usual to find them, for example, in Algodonales (Andalusia) or Arangoiti (Basque country) in Spain, that have large populations of vultures nesting in the area. Pedro Bernardo is a site of passage among the large nests that can be seen on the rocky walls of the sierra of Gredos. If you have not lived a moment like that yet, keep on flying and maybe someday you will be admitted in their gaggle, even just for a short while.
Greenrenaissance is a video production company whose mission is to create and share videos that inspire change. https://www.patreon.com/greenrenaissance
*If you are in Spain and did not try paragliding yet, come to fly with us in the Gredos mountains. Contact www.fotovuelo.com